Craven Gets Flashed X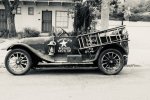 Sat, 20 Feb 2021
As Jenny Wilkins was about to pull away from the curb — in what can only be described as a  wing and a prayer on wheels —- there was a load rap on her frosted window.
"You better roll it down, Jenny," said Craven. "A rap like that got bull written all over it."
Before rolling it down, Jenny wiped the moisture from the window with her coat sleeve to reveal the disgruntled face of Sergeant Dowd of the 21st precinct.
"Jenny, Jenny, Jenny," he said. "When this car came out in 1928 even the horses had a good laugh. That was twenty years ago. No disrespect, but if it were any more dead it'd be rattling its fenders and shouting 'Ahooga!' at passing strangers."
"Ha, ha," said Craven. "That's a good one."
"Danger?" said Sergeant Dowd. "Is that you? What are you doing in this car with this young lady? And it better be good. She's barely out of high school, and it was my solemn pledge to her dad that I was to look out for her best interests. I better be hearing you got a solemn pledge of your own. And that solemn pledge better be jibbing with my solemn pledge or your gonna be wearing a size ten and a half gumshoe on your backside. I solemnly swear."
"It's not what you think, sarge." said Craven. "And if I haven't made it clear to the young lady in question, she's working for me now. Jenny's my photographer. I'm breaking her in."
"Partner."
"Employee."
"Partner."
"Employee."
"Part—"
"Oh, No you don't, Jenny. I've played this game too many times with Betty to know there's no winning in the end. Let's call it a draw and then wait and see who gets sent out for the coffee when break-time comes around."
"Okay, Partner."
"Okay, Betty."
"You call me Betty one more—"
"Okay, you two, knock it off. And is that a raccoon coat you're wearing, Craven?"
"Yeah," said Jenny. "I found it in Aunt Mildred's old trunk. Mr. Softy over here was having a meltdown over the cold weather. I had to shut him up."
"I can shut up on my own thank you very much. I don't need any help from you."
"Then I'd appreciate it if you'd start shutting up now."
"I'll shut up when you shut up."
"Enough, already, you kids," said Dowd. "We're are you two headed?"
"I heard about a shooting on Bleecker," said Jenny. "We're going down to there get some photos. And maybe Mr. Danger here will finally find that clue he's been looking for so many years."
"Excuse me," said Craven, "but what happened to the fawning, hero worshipping teenager I met a few days ago?"
"She got a closer look, Mr. Danger. I should have known better. Never meet your fantasy man, is what my mom always said. They're usually just ordinary schlubs in designer clothes."
"Designer clothes? I got this fedora at Woolworth's."
"That's designer enough for some people, Mr. Ten Dollar Suit."
"I should have stayed in my car," said the sergeant. "I heard about it, too. It was more in the line of a domestic dispute. I'm off-duty at the moment, and, anyway, it's out of my jurisdiction. I'd tell you not to go downtown, but I know you won't listen. I'll send word down to the boys to keep an ear out for the car. 'Cause they're more likely to hear it before they ever see it. So, I'll just say goodnight. And when you get there, please stay out of the way. You'll live longer."
Craven Danger looked out the window and saw a familiar figure geting out of Sergeant Dowd's patrol car.
"Is that Dwayne from the coffee Pot on the Corner coming over here?" said Craven.
"Yeah. He's in training. He's gonna be great too. He's got what it takes for this racket."
"Dwayne Dobbins? The same Dwayne Dobbins who, just this morning, mind you, gave my breakfast order to Betty because she said he had the cutest dimples and that it would be in his best interest not to make her go hungry, else wise she wouldn't have the strength to pucker up and give him a proper thank-you kiss? That same Dwayne is gonna be a police officer?"
"Oh, no, no, Craven. He's my new assistant in the collecting of so-called junk that folks are always tossing to the sidewalk. Dwayne can spot a David Rosen demountable lounge chair like it was nobody's business. No offense, Craven, but you couldn't spot a Queen Anne chair if the queen herself was sitting in it. Me and Dwayne are out on a picking-spree."
"It's a passion of mine, Mr. Danger," said Dwayne. "Next to delivering your breakfast order every morning, of course. When I don't run into Betty first, that is."
"Good day to you two," said Sergeant Dowd. "Take plenty of photos and don't getting yourselves roughed up."
As Sergeant Dowd got behind the wheel of his patrol car he handed a list to Dwayne.
"Be on the lookout for anything with four legs. I'm liking chairs lately."
"I'm your man, Sergeant Dowd."
"Now let's follow those two downtown, Dwayne. I don't trust them on their own. That car of hers can't pass twenty on the speedometer, which leaves of plenty of time to spot-and-grab some trashed goods along the way. And did you see that raccoon coat Craven was wearing? I can tell you right now, those raccoons were glad to be rid of it. Ha. Give me an Evans Mink swing coat with turnback cuffs any day of the week, Dwayne."
***
"What sort of tattoo does madame have in mind?" said Ramone.
"I do like snakes," said Betty. 
"What sort of snake would madame like enveloping her ever so enchanting thigh?" 
"Erroll Flynn. And if he's not available, go see if John Garfield got a couple of hours to kill."
"You're killing me, Betty," said Mildred. "And can we get two martini's while we wait?"
"Anything for the two madames."
Photo courtesy of Wiki Commons:
https://upload.wikimedia.org/wikipedia/commons/f/f2/Jumpin%27_Jalopy_-_F...