Craven's Christmas Stollen - A Craven Danger Mystery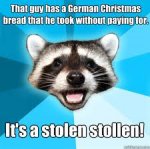 Mon, 22 Dec 2014
Craven's Christmas Stollen
My grandma sent me a Christmas stollen that was then stolen by a strong-armed stooge that was on the lam for being a stoolie. Excuse me while I catch my breath. Thanks. Well, that stoolie had to be some kinda hungry stooge to steal a Christmas stollen that was sent to me by my sainted grandma, 'cause I now know that my grandma sent me back the same Christmas stollen that I sent her last year, back when that stollen wasn't so stinkin' stale. I know it was last years stollen, 'cause I wrote on top a the box, 'To grandma Gertie, from cutesy Craven.' And no wise cracks about the cutsey Craven, 'cause I was pretty darn adorable at one time. So, when I seen the cutsey Craven on top a the box that held the crusty Christmas stollen, well, I put two and what's-it together and come up with a reasonable exclamation: Grandma Gertie went and sent me the same crappy Christmas cake that I give her last year!
But, unbeknownst her, I decided to put that over-weight fruitcake to work as a door-stopper at the Double Danger detective agency. But Betty said to me, 'If I crack my toe on that cruddy Christmas stollen one more time, you'll be wearin' it like a crown of corns!' I laughed and said, 'I think you mean crown of thorns.' And that's when she tried to sock me over the cranium with the
Christmas stollen. Only the Christmas stollen was so weighty that she couldn't lift it up past her ankles. So she dropped it on my foot instead. And now I gotta walk around with one a them Tiny Tim crutches, which is how the strong-armed stoolie got away with stealin' the stinkin' stollen in the first place. You see, he comes into the office to do some informin' on some other kinda hoodlum, sees my lame predicament, and proceeds to walk off with my stollen. What a world!
I mean, who steals a fruitcake? A crummy crook, that's who!
 
So, remember, from this Christmas on, no stealin' anyone's goods, and no givin' the gift what somebody else put their heart and soul into thinkin' about, even if it was only a stale Christmas stollen that made a better door-stopper then something you'd want to stuff in your pie hole.
And a merry Christmas to all. And may you not be burdened with a hefty fruitcake for Christmas. And if you do get one, keep it under your hat. Wait, no, that could hurt. Just stick it in back a the
cupboard with that Marmite your old man brought back from the war. It would serve the darn fruitcake right.
God bless us, everyone.
And Merry Christmas to youse all!