Me Ol' China Joe - Part Two - A Craven Danger Mystery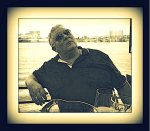 Sun, 18 Sep 2016
London, 1 September 1948
At The Hangman's Noose on the Thames, Craven Danger hung his head over the railing and lost his morning breakfast in the calm waters.
"If I never see another one a them full English breakfasts again, it'll be fine and dandy with me. And this rockin' boat ain't doin' me no good neither!"
"We ain't on a boat, Mr. Danger," said Betty. "You just ain't got your London legs yet. You're still hangin' over the railin' on that freighter. Remember? Me and Sidney workin' at washin' all them dishes to pay for this trip and you spendin' the day tossin' yer insides into the Atlantic?"
"I said I was sorry," said Craven. "I'm feelin' better now."
"Good. 'Cause ya gotta man up today. I don't think a fella like Joe is gonna put up with a whiny regurgitater."
"I think you're right, Betty. He kinda scares me. Bein' a butcher and all. And him packin' a gun ain't makin' my heart beat any slower. You think maybe I can have my bullets back just in case?"
"You need to calm down, Mr. Danger. Joe's a sweetie. I know about these things. Now take a deep breath 'cause here comes Joe and Sidney with the pints."
"Here ya go!" said Joe. "Drink hearty, fast and often, my friends! Today we celebrate anything and everything! The kidney pies will be out in a minute!"
"Kidney pies?" said Craven.
"That's right, Mr. Craven," said Joe. "You okay, mate? Ya look a little green. What you need is a good slug of that Guinness. It'll settle yer stomach quicker that you can say Jack London. Nothin' like a beer in front of me and the Thames behind. What more could a man want?"
"How about a beer I can see through," said Craven.
"Oh, I see," said Joe. "Someone at this table has not had the pleasure of his first stout. Now that's 'cause for celebration! Drink up, everyone! To Mr. Craven and his first Guinness!"
This gotta be some kinda joke, thought Craven. Why would anyone drink a thing that looked like it was poured from a backed up sewer? Then again, if I don't man up in front of Joe,  Betty'll never let me hear the end of it.
"All right then," said Craven. "Down the old hatch and let's hope the door ain't leaky!"
When Craven came up for air and put his empty pint glass down, he sat silent for a moment, as though lost in a luscious dream.
"Who's buyin'!" said Craven. 'Cause I'm cryin' for more Guinness!"
"That's what I like to hear," said Joe. "Now here come the kidney pies! Oh, you folks are in for a treat. Best kidney pies in the whole of London!"
Craven poked a hole through the crust and stirred things up a bit.
"It looks like my stout gave birth to a few lumps of baby Guinnesses," said Craven.
"Now you're talkin'," said Joe. "Eat up!"
"I'm either gettin' drunk, or these kidneys tastes like sweet, tender morsels rained down from the heavens. I could eat 'em like candy!"
"He's drunk," said Sidney. "Call a kidney what ya will, but sweet and heavenly ain't what comes ta mind when I'm chowin' down. A kidney's aim is ta make you better appreciate the sweeter things in life when you're done eatin' the kidney. He's definitely tanked, Betty."
"I ain't not!" said Craven. "I'm just light in the head is all. ''Cause, every time it rains, it rains. . . kidney's from heaven. Don't ya know each cloud contains . . . kidney's from heaven. . ."
"We might have ta change your name ta the croonin' detective," said Joe. "But while your're still conscience, I wanna introduce you to a couple of gents at the bar. If you'll excuse us, Betty. Some men are gonna toss a back a couple. We won't be long."
If tossin' back is what I think it is, thought Betty. I might have ta dress a drunken detective in a suit of armor. He's definitely gonna break something. I shoulda kept my trap shut about that manning up business.
"Mr. Craven," said Joe. "I'd like you to meet Tommy and Tony. The Trafalgar Twins. Two of the best . . . um . . . jewel enthusiasts in Great Briain."
"Nice ta meet ya," said Craven. "Ya know, I'd be careful if I were you. I'm in the detective business and know for a fact that jewelry theft is the number one cause of people havin' ta go out and buy the costume stuff. I read that in True Detective or somethin'. It's like this gold watch that my grandad left me. Look, it's got little diamonds around the dial. What thief wouldn't want to get their hands on this little beauty?"
"I think ya gonna need Superman's kinda vision to see those diamonds, Mr. Danger," said Sidney. "And, if I ain''t mistaken, that's only a tan line of a watch you have on your wrist."
"Hey!" said Craven. "What the . . .  It was there a minute ago!"
"I bet it will show up in no time, Mr. Craven. Isn't that right fellas? I said isn't that right!"
"You bet, mate!" said the Trafalgar's in unison. "Now how about that whiskey Joe?"
"Whiskey?" said Craven. "Oh, no. Betty wouldn't . . . "
"Betty wouldn't what?" said Joe.
"Um, she wouldn't want me to disappoint you, Joe. Of course I'll have a whiskey. With plenty of ice and a lotta soda. I tell ya what, Joe. Make that a Coke with a splash of whiskey. Better yet, just make it a Coke. I'll just sniff at the bottle a whiskey. After all, whiskey was meant to be savored through the nose. I read that in National Geographic or somethin'."
"Barkeep!" said Joe. Five double whiskies. Neat."
Uh, oh, thought Sidney. It's 1945 all over again. When Craven had those whiskies on VE Day and pranced up and down the aisle of Saint Patrick's cathedral doin' the Can-Can.
"Here's to my new mate Craven Danger," said Joe. "No sippin' now! Just drink 'em down like it was the elixir of life that it is!"
"Hey!" said Craven. "Where's my grandad's cufflinks? They were there a minute ago! They were made a genuine pearls!"
"Oh, I'm sure they'll show up, as well, Mr. Craven. Ain't that right, fellas?"
"Anything you say, Joe," said the Trafalgars.
Craven tossed back the whiskey, drinking it down in one long gulp. It was a good minute before he was able to bring his head to an upright position.
"Hey! Where's my tie clip!"
"Fellas!" said Joe.
Photo credit: Betty Felcher