A Pack of Camels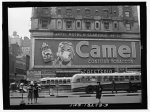 Sat, 02 Nov 2019
1 likes
Sometime early in 1967
'Go down to Margie's candy store and pick up a pack of Camels, a half-gallon of Neopolitan ice cream, and a coupla Pepsi's.'
My older brother's friend was very specific, and it was a simple enough chore for a thirteen year-old. 
'And get a little something for yourself.'
Except when that thirteen year-old is me. 
When I got to Margie's I had the Neopolitan ice cream and the Pepsi's under control. That was my part of the world he was talking about. Had he added Mad magazine, Richie Rich and Archie comic books, I could have performed the whole task blindfolded. Standing on one leg. One hand tied behind my back. Doing the watusi. But when it came to ordering the cigarette's I had a memory lapse and things got a little complicated. 
'Is that it, Richie?' I was asked.
I scanned the cigarette rack once again and picked out something that made sense.
'And a pack of Raleigh's,' I said. 
Raleigh's cigarettes came with a coupon on the back of the pack. I saw the commercial. Save up enough coupons and you could get any number of things. Like a Jet Set Watch by Sovereign, for instance. I imagined it was something Hugh Hefner might wear. The thought made me feel wildly satisfied I made the right decision. You could even send away for a free catalog. What more could you ask of a cigarette? A sensible choice on my part. I was a somewhat proud consumer. 
On my way back to the apartment I had it in my head that I'd be lauded for making such an economical choice. High-fives all around. Give the boy a hand.
'What the fuck is this?' 
My brother's friend was anything but subtle in his irritation about my well thought out decision. But junkies jonseing for a cigarette are anything but subtle when it comes to feeding a need. 
"Camels!' he said. 'No filter! So strong they burn your lungs. What the fuck are these things you're bringing me? The rest of the addicts in the room laughed and I never felt more ridiculous. I didn't mention the coupons.
'Don't worry about it, Richie,' my brother said. 'Next time he gets his own damn cigarettes. C'mon, let's have some ice cream.'
Our family had moved to the borough of Queens a short time before the new school year in 1966. My elder brother Robert, who was twenty-six at the time, stayed behind in the apartment on Third Avenue. It was a rent-controlled flat and he would manage the best he could to maintain it. But heroin addiction cares nothing about your good intentions. His hold on the place wouldn't last long. 
In the meantime I would visit often. Getting away from Queens as many times as I could. 
I only sort of knew what went on behind that bathroom door when I was back in the apartment. I never witnessed the actual act of shooting up, but I would notice the tell-tales signs of my brother's and his girlfriend's addiction: spoon, matches, shoelace. The strong desire for sweets, and how different they were once the drugs took over. Sweet, mellow and fun to be around. I'm sure this was their natural deposition. The drugs only seemed to intensify it. They were like an old vaudeville act. Riffing on each other and laughing all the way. There was a lot of love there, and I never felt at odds hanging out with them. 
In my earliest memories, when Robert was a teenager, and I was four or five years of age, I would notice that my brother would be gone for long periods of time. My mother would explain that Robert was on a farm milking cows and tending sheep. He needed to be away from the city for a bit. That he would be home soon. 
I was too young, of course, to know about addiction, much less my big brother being locked up for trying to feed a habit. I do remember the mystery merchandise he'd bring home: cartons of cigarettes, bottles of liquor, record albums, and anything else he could get his hands on in the wee hours of the morning. But in a city that never sleeps you don't always make a clean getaway. So, off to the farm he would go, milking those cows and tending those sheep.
The last time I saw him alive was 1990. He was in the hospital and I was feeding him water via a wet sponge at the end of a stick. He would die a day or two later. Aids. He was a dear, sweet and kind man. And I miss him.
When I wrote the passage with my brother saying, 'C'mon, Richie, let's have some ice cream,' I began to cry. I wasn't expecting that. I'm glad I did, though. I don't think I ever grieved properly. I was always too angry about losing him that way. 
I don't know what I expected out of these remembrances. I only know that I now feel an urgency to get it all down on paper before the memories get away from me. If only to give the younger generation a glimpse into their family's past. 
Note: Coffee, and binging on music from the period, has done wonders for stirring the memory glands. (I know there's no such thing as a memory gland. But I do like the sound of it.) Hope I get to stir 'em some more.
Photo courtesy of Wiki Commons: https://commons.wikimedia.org/wiki/File:Camel_cigarette_advertisement_at...