Wanna by Bee - Video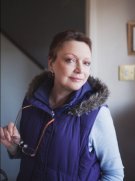 Sun, 05 Jun 2016
1 likes
I discussed with Bee the idea of doing this piece of hers. She thought I should. So there you have it. She's a special soul and is in my thoughts quite often. I hope she gets to see it.
https://www.youtube.com/watch?v=rBHVJ0AWqPY
Wanna by Bee
I wanna run, wanna run, in the wind, rain and sun.

Wanna push myself; fire myself - on till I'm stunned.

with blisters broke out on my sleep softened feet,

I wanna set off at dawn and pelt till I'm weak. Wanna run



with cheeks burnt, and mind gone a-blank.

Wanna jog myself mad - my clothes and hair dank

with sweat, and with fire and pain in my lungs,

hoarse with delight as my heart gallops on.



I wanna run, wanna run with sleet in my eyes,

blinded by tears, wanna shout battle cries - ignoring 

the stitch cutting under my ribs,

cramp in my gut, in my arms, thighs and hips  - wanna run



from the world - all and nothing, I'll fly.

Wanna run cos I can, without questioning why.

And I can, so I shall, no matter the damage

to sinew and joint, keeping on while I manage, cos I can't 



ever stop while there's blood in my veins;

can't ever quit to fatigue or to pain.

In my brain there's a gun that jumped me to start,

and I've gotta keep going with the race of heart.



Wanna run, gotta run till I flop, till I drop

at the end of the track, when they force me to stop.

When I'm dead on my feet, still I'll flow for the fun,

on, pounding on, gunning on, on and on...



till there's nothing inside me but the bursting to fly,

and if they told me I'd die, and explained to me why

I'd kick um aside, and try and retry - 

till they rush to collect, take me off in a box,

and I smell, decomposing, with holes in my socks -

Wanna run, wanna run in shoes begged or borrowed,

and I'll run as I long to -



starting tomorrow.