The border of earth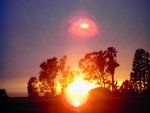 Sat, 18 Mar 2017
Little has been written which impact hairdressers have on the lives of human beings. That's remarkable. Hair style is one of the most striking feature of the body. Elvis Presley. Einstein. Marilyn Monroe. Samson. Would they have become so famous without their showy hairstyle?
     The relationship with your hairdresser is a trust bond. Of course, the relationship is neatly packed in formalities. The bell that sounds when you enter the barbershop, the friendly smile of the hairdresser, the local newspaper laying on the counter, the unconstrained offer to have a cup of tea or coffee.
     For me the cutting of hair is way more than a ritual. It is a confirmation that I am. A testimonial that I exist. I must become again who I was. My shortened haircut refers to the one I was. Creating that certainty, that's the job of my hairdresser.
    Of course, in the mirror I notice it too. The wrinkles, gray hair, the more serious look, the looser skin around my neck. Nevertheless, in the core, I want to remain what I look like.
     So many things that are changing. So many things that are being discussed. But not my appearance.
    With this intention I shuffle into the barbershop on a Friday night. It's snowing. It's freezing cold. I rub snowflakes from my face, my hair. It has been a tough week. Troublesome problems at work, boring issues at home. Fortunately, the barbershop is familiar. The door bell, the warmth, the newspaper.
     I'm taking out my winter coat and automatically I stride to the red leather chair, plop down with a deep sigh, put my glasses on the ledge of the big mirror and close my eyes. A short break. Just a few minutes to recover from my small burdensome live.
    "It's time again?"
    I open my eyes. A woman.
How could I not have noticed her? She doesn't pay any attention to my confusion though. She explains in short sentences that my regular hairdresser is on vacation. She is his substitute for the next two weeks.
     "How would you like to have it cut?"
     I get confused. This question has not been asked to me in the last ten years. Is she aware how my muscles get cramped? Does she already know me? Does she grasp who in her chair? The kind of fifty something with a long future behind him? I can't look at her. But this is also not necessary. Her fingers are still running through my hair. A biologist studying a rare animal.
     "We can try something else?" she says invitingly.
     A tiny spark. A little shock. Something is happening. Is it her persuasiveness? Her quiet voice? Her hair bright eyes? Is it my dark mind? What it can be. Her presence makes me change.
    I'm open. Open for transformation.
    Open for a turnaround.
    "Why not," I suddenly hear myself saying. The woman and I look at each other through the mirror. As if we just have agreed to commit an assault on a mink farm.
    "I'll get a couple of books. Then you can choose a model."
    The minutes that follow are undoubtedly among the most special in my life. Instead of an ordinary man with an ordinary job in an ordinary town, I'm about to radically change my life.
    A new hairstyle. And what it will entails. A new job. Fashionable clothes. An Alfa Romeo Quadrifoglio. A trip around the world. Audition for a movie. A theatre tour.
    "Maybe next time?' she tries when she brushes the last hair off my shoulders. I am standing next to the cash register. I catch a glimpse of a well known person in the mirror beside of me. The man and I are nodding to each other.
    "Maybe next time," I lying emphatically.