Jam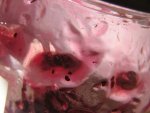 Fri, 23 Jun 2023
I couldn't understand why I'd never discovered it before. Perhaps I had, once, years ago during my childhood but it had frightened me and I'd locked it away in some unmarked file and hurled it to the very back of my head where it would be forgotten in some dark corner.
I rediscovered it on that awful day when everyone around me was playing happy families, their voices ringing in an endless loop of laughter, clinking glasses, playing children and conversation broken with bursts of deafening and explosive laughter but I was locked out. The people around me were loving and kind, at least that's how they acted but something felt wrong. I was a welcome guest in familiar company and this only made my perceived exclusion all the more horrifying.
There was an alarming feeling inside me of being completely alone, not physically but in another far more frightening sense. I was so alone that I could see all the way to the end of my life and all the way back to the beginning, in between was just cold nothingness, no meaning or substance. I wasn't happy like these people. Why were they so happy? It was simply because they couldn't see what I could see, they had no idea and that was why they were inanely grinning and laughing.
'Lisa, go and get some dessert!'
'What?' I was temporarily jolted out of my nightmare but the world was faded, impenetrable and my stomach churned.
'Dessert! Go and get some. I've made a cheesecake, Peter's brought strawberries and mum's made a victoria sponge with homemade raspberry jam. Your glass is almost empty, shall I top you up?'
'No, no. I'm fine, just got a bit of a headache. Drinking in the day doesn't suit me.'
I watched my sister get up and rush off chasing after her young son. She was always busy, stupidly so and always laughing. It seemed as if she just didn't need much to be satisfied, a husband, a boring office job, a dog, a pair of pink cropped trousers.
I noticed how there were so many flowers in the garden, an obnoxious amount of blooms, the scent of roses and philadelphus was overwhelming, my mother's obsession with gardening was simply absurd. Disparate plants from all over the world thrown together like a chaotic collection stuffed into every inch of space, flowering in every colour perceptible to the human eye and possibly many more which were not.
Family gatherings had always given me a strange physical sensation of inner panic, of stifled feelings, long held secrets, unspoken anger and the overwhelming sense of transience. In fifty years most of us would be dead, one by one we were going to vanish from each other's lives only to be remembered tearfully on anniversaries and birthdays like this one.
I got up and shimmied past the mismatched tables and chairs. Somewhere in the house I could hear one of my nephews playing the recorder and adults clapping in time to bum notes. There were two toilets in the house. I sneaked to the upstairs one, feeling dizzy as I climbed the staircase, hot from the sun and dehydrated from drinking some sort of homemade punch. 
I caught my reflection in the bathroom cabinet. The sun had branded my face, burning my nose, also my shoulders and the top of my chest. I thought how stupid I looked in my white sundress which billowed around the hemline, making me appear as a triangle. I wasn't sure who I was dressing for but it wasn't me. There was no reason for me to wear practical cropped trousers, I had no children to run around after. I once had the opportunity to have a child but I was too young, in an unstable relationship and overcome with anxiety, turmoil and shame. It was probably too late now, at over forty and single, the possibility of me having a family was next to zero.
In an inexplicable act of nosiness, I opened my parents bathroom cabinet and peered at the contents. My father's blood pressure tablets, purple tinted shampoo, Vaseline, some earbuds, a few other little bottles of facial serum. I removed one, thinking that it may soothe my sunburn a little or at least limit the damage to my skin. A pair of nail scissors fell from the cabinet and into the sink.
They were heavy duty, curved at the end into a very sharp point. I poked it into the end of my finger and somehow it felt so invigorating, so clean. I did it again so that it left an indent, all the while watching my face in the mirror as I winced. I could hear the party outside, the familiar voices, all the usual people dominating the conversations, repeated stories, recycled over and over at all family events and the fake responses, as if they were hearing the story for the first time.
I heard a young child crying and I lifted the copious fabric of my dress, held it up with one hand and with the other I connected the pinpoint of the stainless steel nail scissors with the soft white flesh of my abdomen. I looked up at the ceiling and pushed on the metal, pausing as the pain became intolerable but then overcoming that and pushing harder until the resistance of my outer epidermis gave out and the blade sunk into the deeper layer of my skin. I gasped.
It wasn't a comfortable sensation but it felt so much better than the hollow road that I had been standing on for the past two hours. I was back now, back in some sort of presence where normal sensations are felt and experienced. A bead of blood pooled, dark red on my flesh like a little ruby then dripped down just a centimeter or so. I pulled at the toilet roll, tearing some off and holding it firmly on my tiny, self inflicted wound. A punctuation mark so necessary to the event, to surviving the event. It was just what I needed and something I knew I would be returning to again and again.
I went back down to the garden with a new sense of being connected to my family. My sister smiled and rushed over to me with a glass of juice in her hand. 'Where were you, I couldn't find you! Lisa, are you sure you're alright?'
'Yes,' I nodded, smiling now. 'Where is little Louis?'
'Oh, the kids are all playing skittles in the dining room….Hey, what's that on your dress?'
'What?' I looked down and saw a small smear of red blood on my dress, near my naval. 'Oh that, it's jam.'