Room 7. ( Alan and Gerald)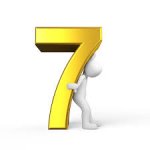 Fri, 27 Oct 2017
"You're on the ground floor madam. Room 7. Straight along the corridor and it's the third room on the right. Welcome to The Wentworth."
The young receptionist smiled as she handed Tina Hawkins the key to her room.
"Will you be dining with us tonight?"
Tina never replied, just shook her head from side to side and headed towards the corridor. Room 7 was exactly where it was supposed to be, third door on the right. She turned the key in the lock and entered.
It was an average room in every way. Average price, average sized bed, average decor. That's all she needed. Nothing fancy was required. Besides, most of her time would be spent staring at the ceiling.
Her phone rang. She answered and heard an American accent.
"You there yet honey?"
"Yes. Just arrived. I'm in Room 7. Go past reception and it's the third door on the right."
"Good. I'm just pulling into the car park. See you in five minutes."
She knew nothing about this new punter, just that he was a rich American who was in town for a few days and wanted a bit of "fun."  That's all the agency had told her. But they'd promised her eight hundred quid for just one evening. They'd even booked the Hotel room for her. She was guessing he'd probably paid them double what she was getting. That didn't matter, she could do with the money. Bobby needed new school shoes and the rent on the flat was due Friday.
She looked at herself in the bathroom mirror.
Not bad for thirty eight. She still had the looks of a woman in her late twenties. The gods had been kind and given her clear skin, high cheek bones, good teeth and a great set of lungs.
She threw back her blonde hair and let it settle naturally. Good to go.
She heard a knock.  She stepped out of the bathroom and opened the door. In front of her was a short, overweight, middle aged man with grey hair and a big grin. He had a bottle of red wine in one hand and was carrying a small holdall in the other.
"Hey honey. What's your name?"
He walked past her, put the bottle on the table and the bag on the floor. He sat down on the bed. She closed the door and quickly made up a name.
"Stella."
His grin was now a full blown smile, showing a set of brownish crooked teeth.
"Nice to meet you. My name is Alan. Looks like I've gone and hit the jackpot with you Stella. You are one mighty fine looking woman."
He patted the bed with his left hand.
"Come and sit your pretty ass down here."
She had a choice to make. Sit down beside him, get started straightaway and get it over and done with. Or play for time and find out what he was into. She didn't want any surprises so took the second option.
"What's the rush? Let's open that wine first and have a drink."
He agreed.
"Sounds like a plan to me honey."
She picked up the bottle and unscrewed the top. She took two glasses from the bathroom, filled them up to the brim and handed one to him. He noticed her looking at his bag.
"I brought someone with me. Hope that's okay? The agency said it was!"
Her heart sank. What the fuck did he mean? She needed the money but there were limits as to what she was prepared to do for it. She took a large gulp of her wine and put on a brave smile.
"Someone?"
He picked up the bag and placed it on the bed. He slowly undid the zip and put his hand inside. Quick as a flash he brought out what looked like a huge rag doll. It had ginger hair, huge bulging eyes and a mouth as wide as its head. It seemed to be hanging from his arm. And then it spoke.
"Allo, my name is Gerald and this is my good friend Alan."
As the doll was saying the words she noticed Alan's lips moving. She'd had to deal with crazies before but this was just weird. The doll was staring at her...waiting. She spoke.
"Hello Gerald. My name is Stella. Pleased to meet you."
She wasn't sure if she should be looking at Alan or Gerald. But there was something about the dolls eyes that held her gaze. The other thing she noticed was the dolls lack of an American accent, if anything it sounded like a Londoner.
"Alan's a bit shy. But not me. I'm up for anything. Now why don't you two get started and I'll sit in the corner. I like to watch!"
Just when she thought the situation couldn't get any weirder... it did. Alan sat the dummy on a chair facing the bed and began to undress. He never said a word as he slipped out of his clothes and within seconds his podgy naked body was on full display.
"Come on love, get your kit off, let's see what you've got."
As the dummy was speaking she couldn't help look at Alan's face. He was good, his lips moved only slightly and he was able to throw his voice a fair way.
Again she made a quick decision in her head. All she had to do was have sex with the short podgy guy while an ugly looking doll sat in a chair in the corner, and looking at the state of Alan she was guessing it would all be over in just a few minutes. Yes it was all a bit weird, but she needed the eight hundred pounds badly.
Decision made, she stripped naked and sat on the bed.
She heard the voice of Gerald again.
"Nice tits. Go on Alan old son. Fill your boots!"
She laid back and looked at the ceiling. Alan positioned himself on top and began his thrusting. As she expected it was all over in seconds. Alan rolled over and lay beside her. She looked over at the chair. The doll wasn't there.
She was aware of a noise at the bottom of the bed. She looked down and saw Gerald crawling towards her. Eyes and mouth wide open.
"MY TURN NOW!"
_______________________________________________________________________________
The young girl on reception looked at her colleague.
"Did you hear a scream?"
The other girl just shrugged her shoulders.
"God knows what they get up to in those rooms..."