When The Boxes Open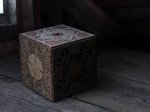 Tue, 09 Dec 2014
A short in under 250 words.
He's seven and his young brain soaks up everything like a heavy duty j cloth.
He sees things. Things he doesn't understand. Things that go into little boxes and are tucked away in dark places inside his head.
Like his hero, his dad, getting ready to go out on a Saturday night dressed in his new made to measure suit and large black Crombie overcoat that he wears with pride. Yet Mum always gets her clothes from the local charity shop.
Like his hero's temper that flares up when Mum asks what time he'll be back so that she can have his tea ready. And the quickness of his hand when she says it once too often.
Like the way his hero buys him a packet of crisps and tells him to sit in the corner and be quiet while he attends to business.
Like the money his hero slips into the hand of a skinny man who winks and gives him small plastic bags in return.
Like the way his hero punches a man in the face and kicks him when he's on the floor for saying the words " I don't have the money tonight."
Like his hero kissing a drunken woman outside the pub at the end of the night while Mum stays indoors with the two girls. Girls his hero calls "the bitches offspring."
He's now twenty four, married with a young son and the boxes have come out of the darkness and are beginning to open.