The Disco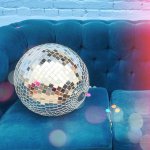 Tue, 22 Nov 2016
At school today Sarah told me my eyebrows were in a shocking state. I didn't know what to say. She and a few of the girls smirked and smiled at my expense. I would never say something mean, because you never know what she'll do. I remember when Georgina was messing with her the night before my first Disco. I'll never forget what happened that night or what happened after.
I'm going to get them plucked after school, my eyebrows that is. I can't be going to the Disco Saturday with them looking like this. I didn't think they were bad, but now the more I look at them the more I see it. Sarah was right. She is most of the time.
I can't help but remember poor Georgina as the bell rings and I pick up my books and head for my locker. You would never defend her. It was terrible what she did, and she deserved what she got but none of it was easy.
"Rachel," I hear my name called from somewhere up the hall. When I turn its Sarah walking towards me.
"Rachel. Would you like to come over to mine after school?"
"Of course I would. That would be great."
She smiles and turns to walk away, "So I'll see you at my place."
"Sure thing."
I'm annoyed that she caught me. I don't want to go. I'm never sure who else will be there. If it was just her it would be fine, but she's never the same when others are there. I've become the favourite target now that they've shed Georgina, but every group needs a target and it just happens to be me. I don't mind it.  It's better than being Georgina. I mean she isn't even in the school anymore.
I've known Sarah longer than any of the other girls. Maybe that's why she turns them all on me. Maybe it's because she knows I can take it. Maybe it's because she knows how strong I am. I see my mam's car pull up in front of the school. When I climb in she smiles and asks, "Where to missy?"
"Could you take me to Sarah's mam?"
"Do you really want to go to Sarah's?"
"Of course I do mom. Sarah's like my best friend."
She puts her hands up to my sharp response.
"Okay, okay. It's just that you seem a litte sad. Is there something on your mind."
It would be easy to say it. To just spill it and get it off my chest once and for all, but if I did I would be over. I would be discarded just like Georgina, and when it all came to light nothing would be left of me.
"I'm fine mam."
"Okay. I'll drop you over then, and you can give me a call when you are ready for me to collect you."
"Sounds good mam!"
I try to sound excited so my mam won't worry, but I can't help but worry. Each moment the feeling builds in my chest. It always starts as something small, but I can't shake it then. Yesterday they changed my surname Patterson to fatterson and when I got to school somebody had written it all over my locker in highlighter.
I climb out of the car and mom says she'll see me soon. I walk to the door, but when I see mam's car retreating I sneak through the front garden and then around the back to the tree house. Sarah and I helped her dad build the tree house when we were only nine. I climb up the rungs and into the wooden box. One of the windows looks over Sarah's back garden and I can see her and Rhianna lying out beside the pool. I quickly dodge back as I see Sarah lean forward and start to get up.
Resting my head against the wall of the tree house it all comes rushing back.
I had never been allowed to go to the disco, so when mam said I could I freaked out. I was straight on the phone to Sarah who had been going to the disco for ages. She said she couldn't wait to go with me, but her voice sounded dry and dead. We went shopping to find our outfits and Sarah picked one that I knew my mam would never let me wear.
Sarah kept saying everything I got into made me look fat and the more things I tried on the more I believed her. I didn't usually think I was fat, but that day it was like the mirrors were stretching me the wrong way. When Sarah finally said I looked good in something I knew it was something my mam would never let me wear, and I couldn't help but think it made me look fat.
When the night finally arrived I wore something else and stuffed the short skirt and dangling shirt into the bottom of my purse. My mam and dad seemed hesitant as I walked out the door and I told them they were being stupid, and that they had nothing to worry about. They laughed a nervous laugh and told me to be responsible.
Climbing into the back of the car the first thing I noticed was Georgina's face. She was white as a sheet. She was wearing this bright orange top and against it her skin looked so fragile, like porcelain. I asked her what was wrong and she wouldn't say. Sarah was sitting in the front passenger seat and she was in great form. She kept looking back at us with the widest smile and she would let out this glamorous little laugh. I loved the way glamour ringed through her voice.
The disco was mayhem. After all the build-up I hated it. I hated it before any of it even happened. The sweaty gyrating bodies, and the kissing, it was like being in a butcher. Every one searching out the best piece of meat or at least one they could afford.
I couldn't take my eyes off of Georgina who looked like death under the lights and in the midst of the smoke. One of the boys from school kept bumping into me and I knew he wanted me, so I told him Georgina was sick and took her by the arm and out to the bathroom and told her to spill it all.
"Sarah made me do something," is all she could say for a good few minutes, and then she went over to the toilet, dropped to her hands and knees and started retching horribly. It was my first experience holding back someone's hair.
Eventually I calmed her down a good bit and sat her down on the toilet. I took her face in my hands and said, "it's going to be okay Georgy. I'm here. I've got you."
Then the shaking began and her teeth started clattering and it wasn't even cold. I didn't know what to do and I was about to get help when she started to speak. It wasn't her regular voice. It was a dull, lifeless monotone devoid of any of her usual colour.
"Sarah took pictures of me doing things. She said I had to do them or I couldn't be her friend anymore. She said if I didn't listen none of you would be my friends anymore. She said she would end it all. I didn't know what to do so I let her take the pictures."
I smiled at her, trying to look comforting, "How bad can it be Georgy. They're just pictures right?"
Suddenly she looks at me for the first time. Her eyes spark and engage with mine and her voice for a moment is itself, "She posted them Ray. She posted all of them on my own account. I don't know what to do."
Her face almost collapses, but then the colour drains and she is just a shell again. This is what's left. This is all that's left.
"Georgy we're taking the pictures down. We're taking them down right now. Give me your phone."
She slowly slips her phone out of her pocket and then her whole form goes rigid.
"She saved a picture Ray. She saved the worst picture and said she would post it if I took the others down. She said she would post it everywhere."
--
I hear my phone buzzing in my pocket and know that it's Sarah ringing me. I silence it in panic. I know they can't hear it from the pool, but they can't know I'm here. I risk a peek through the window. They're not beside the pool any longer.
I have a sudden urge to climb to the lookout. I crawl back out of the door and take hold of a wooden rung and slowly ascend, as I go higher the wind picks up speed and it begins to rain. When I reach the lookout, which is nothing more than a wooden board laid flat over one of the upper limbs of the tree, I pull myself up and lay flat looking up into the sky.
--
When I went looking for Sarah I couldn't find her. It wasn't till the end of the night that I noticed her out in the hall. She was pressed up against the locker by Colin. I didn't find out his name till later.
When I said her name she looked at me with derision written all over her face.
"Get lost Ray. Can't you see I'm busy."
She couldn't shake me and eventually she told Colin to go and get her a drink.
"Sarah you have to take down those pictures of Georgy!"
Her face didn't change at all. Only her lips turned slowly upward.
"Georgy wanted to do it to you Rachel. She said to me, "Sarah will we play a prank on Rachel." That was that. I flipped it all on her. I was just protecting you. You're my oldest friend you know that don't you."
I look at her and don't know what to think.
"I still want you to take it down Sarah. It's cruel."
"Ahh Rachel would you stop being so nice. You're always so nice. Little miss perfect."
At this point Colin is back and they are eating each others faces again and finally Sarah pushes his face away for a moment, "Would you stop staring."
--
I turn around and walk slowly through the disco, under the garish lights and out of the scene and to the very edge of the lookout the ground calls out from beneath me far below. Leaves and branches hang guarding the way down. I stand at the edge of the lookout balancing, lightly swaying.
I see Georgy. Her tear stained face and tormented voice as she leaves school for the last time.
"I was never going to do it to you Ray. You know I wouldn't do that to you. None of us have that in us, but her. She's the only one."
I can't listen to her. She doesn't exist. I stare into my locker, into my books. If I pretend she doesn't exist maybe she'll go away. I feel anger, rage. I see red and I turn on her.
"You're just saying that Georgy. Sarah defended me and you're just mad because you don't have any friends anymore you miserable little twat."
I walk past her. Down the hall and away from her forever, ignoring countless echoes and whispers that invade the secret and quiet places,
"I heard Sarah outed Georgy just because Colin was showing her attention. Can you believe that."
"No. That's twisted." and they pass meaninglessly through me as I carry on over the edge tumbling down and down.
I won't let it all happen to me. I wonder if she'll be the one to find me. Below the tree house we made together. I wonder if she'll know that she was the one to push me off. I should have written a note to let her know.