The Wall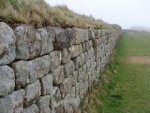 Sat, 29 Apr 2017
1 likes
Your birthday week we walked the Roman wall
five sunny days
backpacking, east to west, the call
of the ancients and their secretive ways
beckoned us to join them, as if
history might offer a gentle forewarning. We brushed against lichenous stone
   photographed imposing shapes of quiff-
topped thistle, their seedlings chucked by angry boys who ran the Vallum
   with catapults, clubs, and sharpened bone.
At least, that was our theory. The oppressed
had tried to mark the land
with flowering symbols of resistance. You took cuttings, pressed
them in the journal of your trip. I watched your once-steady hand
lay each gaudy stem: bog rosemary, chive, asphrodel
notation written as I stood there
admiring the undulating hills that bore the wall, magnificent, as though a spell
had once been cast upon treasured land that sang a mysterious air.
Or had perhaps a covenant once been laid
on bog, mile castle, sandbank, scree,
those sacrificed in its making hidden beneath history's heavy shade
patiently awaiting you and me.
At night we ate with other walkers - German, Swiss, one
from Montreal, a woman like you
on a pilgrimage of sorts, done
with modernity, the rat-race, a marriage of many years, time
   honoured, blessed with an off-beat point of view.
We toasted good health and good fortune - the songs and booze
a diversionary balm. Beneath canvass we confirmed our future fears,
re-affirmed late-flowering love, a secret vow for us to choose.
You cried and helpless I tried to stem your tears.
At dawn we marched: across sunlit fields, over brittle gates and hives
left Kit Kat offerings for walkers to find
recited other walls that had shaped our mis-matched lives
Berlin, Israel, China – the self-imposed walls we brutally erect in
   each other's mind.
The end was sudden, as you expected; exhausting, life earned,
life passed by – life lived as it was meant to be -
the wall a memorial to which I returned,
placed a Roman offering – myrtle - in your and others'
   memory.