The A1 Crosses the River Swale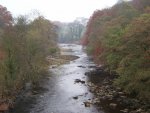 Sat, 07 Mar 2015
1 likes
Somewhere in Yorkshire.
After two hours of fossil-fuelled frenzy,
On a tarmac torrent
Of tyres, fumes, noise,
One immaculately timed glance to the left
Reveals the road, briefly, to be a bridge,
over a brown river.
On quiet banks, a few trees,
Shading the bubbling shallows,
And a small beach of Pennine-washed stones,
Delivered from distant hills, delineated, deposited.
A Northern river, peat-stained, brown as a smoker's finger,
Full of the cold clarity of the morning after
Disturbed by things just under the surface,
Flowing erratically.
This road-straddled river
As transport, falls short.
Unnavigable by any but the salmon,
Obsessing their way upstream to the scene of their birth,
As I do,
Riding the grey stream.
A micro-glance,
Just a small slice of a second, then
Eyes turn back to the road
North.