BERMONDSEY BOY (LONDON)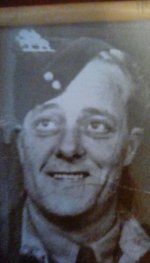 Sat, 13 Aug 2016
This is the story of my Uncle Ern
Not much of a scholar, but willing to learn.
Shit shovelling, coal heaving to earn him a shilling,
Whatever was offered, our Ernie was willing.
Left school at twelve, started driving a lorry –
It saved his poor Mother a whole lot of worry;
A widow, with eight kids all wanting their dinner
At fifteen our Ern was the family breadwinner.
And he sang in the pubs and the clubs and won prizes,
He was poor, but quite honest: with Ern, no surprises.
Spent the war in the Army; his family was proud
But they did miss his voice, always booming and loud.
As usual our fella had fulfilled his duty.
He came back, and married his Camberwell beauty.
But sadly poor Ernie soon lost his sick wife.
But he picked up the pieces, got on with his life.
Drove limos and taxis, would work anywhere –
If you wanted a driver, old Ernie was there.
Like the Coughdrop Man, known all over the place,
Down East Lane market, a familiar face.
Law breakers or keepers, they all knew his name –
Black, white or yellow, all treated the same.
He worked for the Richardsons, the occasional day –
Just driving their Mother, or so he would say.
Late in life he remarried, an American friend
(I bet you can guess how this story will end)!
They soon moved to Florida, and Ernie became
A familiar face and a recognised name
In the Miami markets, you could hear him holler:
'Look at these bangles, folks, two for a dollar!'
And he came home to London each year with wife Jess
How they could afford it we could only guess!
But Jessie grew poorly, and at eighty she died,
So Ern was alone, but kept his London pride,
Got a stall down the market, selling last seasons kit
Of the Miami Dolphins; it was a great hit
So he started to export his stuff to The Smoke
It sold well down the Lane, the wily old bloke!
Which shows you, whatever success you enjoy
You can't take out the London from a Bermondsey boy.