THE LONELY WANDERER (I.P.)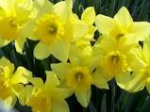 Sun, 09 Mar 2014
I wander, aimless, through the crowd
All hustling, bustling, never still
Through London streets beneath a shroud
Of mist and dust, to Tower Hill,
Where lovers stroll beneath the trees –
While I'm alone, and ill at ease
Where is the man who once was mine?
Was it me forced him to stray?
Or was our love in slow decline
And made him want to go away?
I let him go; I missed my chance
He left me without backward glance.
And still I miss him every day
And wonder if he thinks of me.
I know I can't go on this way
In such despair, and misery.
My hot tears fall, I am distraught -
The river is my only thought.
Then from the corner of my eye
A flash of gold invades my mood;
A bright embankment quite nearby
Where once my man and I had stood.
My heart with joy and new hope fills
As I behold the daffodils!