Compassion Fatigue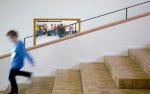 Sat, 02 Dec 2017
Hey you.
Yeah you.
I know your grandad died last night but conjugate this verb.
Get into groups now.
Group one:
Data says you're the smart kids.
Someone read to you.
Mummy worked but
spoke softly,
full sentences.
Group two:
Drug dealer.
Heroin baby.
Looked after child.
Son of a people trafficker.
Group three:
You're all in this group as you're underachieving and you're white.
Next lesson.
Quiet down!
I know you slept in a cell last night but that's no excuse for not having a pen.
You need to make progress!
(Chip pan's coming out her pores.)
Please tick a box to choose how you'd prefer to be deported.
Hmmmm....
boat please.
Why so sleepy?
Spent the night in the kitchen with a knife cos
people keep breaking in?
Oh yeah I remember,
I went to your house the other day.
Where's the furniture?
Your five year old sister let me in.
Slipped the key through the letter box.
She didn't know who I was.
Wear leggings for comfort do you?
Mum's drunk on the sofa again?
Stabbed your uncle did you?
Touched you again.
Fair enough.
This test's your way out.
Why do you have a knife?
Protecting your mum? Ok you can sit in the library today.
We haven't got the money for one on one. 
Kidnap risk were you? Very interesting.
Have a seat and fill this test in. Waiting list is long this time of year.
What do you mean you don't understand English?
I'll get a dictionary ordered when the credit card's unfrozen.
Same boat we're in.
Some holes.
Wind's against us but
we all do what we're told.
More through hope than threat
I think.