Half-Moon Cuticle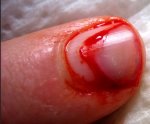 Sat, 06 Feb 2016
I heard you in a crowd.
Spun a half circle, spread my arms.
I flung myself at nothing
and stood wide open.
You were out there,
weren't you?
Sucking at the horizon.
Your wet mouth mulching amidst
a fist of black.
Once, you sat opposite me.
Pretending to sip your coffee,
blasé as the night,
you slipped my eye.
I'm quite the catch.
You fell from an envelope.
A blank white lid,
some blackness scrawled,
a number or two.
So many zeroes,
such cold command.
You're a slender finger,
half moon-cuticled,
a stone in my gut
counting calories in the fridge.
You skim across my vision.
I slam it shut.
I dreamt of you last night.
Not him.
Not her, but you.
Yes you.
And that look you get.
My head's a warehouse, again
like I've never slept.
Thought I saw you at daybreak.
Cool blue smoke,
in the morning hush.
It wasn't right was it?
The fault lines shifted.
I've done it again.
Sorry.
Maybe.
You make me miss you.
One wing eyebrow,
arched little curve.
A radio wave transmitting,
searching.
It's not like it's wrong.
Is it?
We're both happy.
Aren't we?
You wanted me.
Didn't you?
Happy.
Orbiting our lives.
Dipping our toes.
Once in a while.
It's nonsense.
You're never there
when I feel the sun.
Never there on Sunday walks.
But at three am you're bright as day.
Supine lover above the sheets.
Please don't wake her.
She's all I have
or all that's left
since you arrived.
You've known me longer.
You've seen me falter.
You've watched me find her
and almost lose her.
You've cut me deeper
and loved me often.
But never better
never better.