Them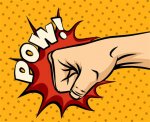 Sun, 10 Jun 2018
I can see into our road now.
Last week
the door came off its hinges.
Not the fuckin five o
another one of the family
ballied up
knives at night.
Fuck sake I says
What's he done now?
Just a warnin they say.
Ok I says. Appreciated.
Thanks for the free air con boys.
Me lad was on the lounge floor
when I telled him.
His mates knocked him up at 3
shottin coke,
so it's easier that way.
I get some sleep.
I get a cut.
So it's worth the bother.
He's a good kid really.
They're all good kids.
Especially the family.
Nobody touches them.
That's respect there.
Got two guys out of the country the other week,
stoved in a runner's temple,
but didn't use the shiv.
Standards. 
Not like with that plod.
Papers said would've been better for her
if they'd finished.
Fuckin pig.
I drug tested the lad.
Telled that bloody school he was clean.
That I tested it on a user
so I'm sure.
Mind your own I says.
Not my business where he is.
Not since he left fist marks in the wall,
says it's cos he regretted jumping 
the second his feet left the chair.
Me sister does scouts you know?
Waves at kids holding hands with parents.
They wave back at her.
Fucking middle class.
They shot him while the sun come up.
Round the side door.
He bled out while I was on the phone to that bloody school,
saying he was at dentist.
Never gave him a chance they did.
They said he was such a good kid but what'd they do for us?
Any o them?
Family'll look after me.
Doubled me this week.
Patted my youngest on the head
asked if he liked bikes.
That's respect right there.