Beauty and the Beholder (a rhyming version)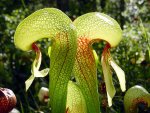 Fri, 05 Aug 2022
2 likes
See https://www.abctales.com/story/luigipagano/beauty-and-beholder
Plato said that beauty lies
in the eyes of the beholder
so why to some flowers
do we give the cold shoulder?
I refer to certain plants
said to be less attractive
because they're regarded
obnoxiously olfactive.
Though each is identifiable
by its botanical name
the way they are described
it is not always the same.
Sometimes they're called
by a nickname derived
by their distinct feature,
but it could be contrived.
Some people might wince,
and might even glower,
learning of the attributes
of the Corpse Flower.
What are we to think
of those of the Cobra Lily?
To say it thrives in bogs
comes across as silly.
And the Black Bat Flower
or the Dutchman's Pipe?
To assert they are ugly
is bunk, a load of tripe.
They are not as fragrant
as roses or carnations
but they are, after all, 
Mother Nature's creations
© Luigi Pagano 2022