Dear Diary...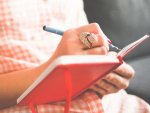 Sun, 09 Feb 2020
1 likes
The news that Jessica has found her mother's diary is a real bombshell.
I must not panic and try to look unperturbed. I act very normally and she doesn't detect any signs of alarm. My mind is in turmoil, though, at the prospect that Francesca might have been very explicit in her journal.
"Have you read it?", I ask matter-of-factly.
"I hesitated at first, debating if it was ethical to delve into a person's intimate details but curiosity won the day, I'm ashamed to say."
"Perfectly natural that a daughter wants to know her mother's thoughts", I say and wait to hear what secrets might have been openly recorded.
"It is full of interesting facts about her experiences as a war photographer and of her personal life but found some passages mystifying,"
"Such as?"
She opens the diary and reads from a page: "I shall always remember the father of my child for having blessed me with a most precious gift."
"Well, it seems to me that she was overjoyed at giving birth to you. "
"A bit too circuitous, don't you think, uncle?"
I understand that Francesca has been cleverly diplomatic in chronicling a special moment in case the diary fell into the wrong hands.
"Artistic licence, perhaps. She may have been thinking of writing her memoirs.", I waffle searching for a plausible explanation.
"Hmm, could be...", I see that she is not convinced. "Is it possible that part of the manuscript is encrypted?"
"Very unlikely my dear but to put your mind at rest I'm willing to cast an eye on it to see whether it contains any veiled message."
Oh, would you? You are a real sweetie.", she gushes and hands me the notebook.
Much reassured she goes off to meet Klaus.
◊ ◊ ◊
I am rifling through the pages of my late sister-in-law's diary in search of compromising clues and find one that Jessica has missed:
"Justin is very depressed today, after his visit to the doctor; it appears that his sperm count is very low which reduces our chances of conception."
This statement is in sharp contrast with her previous assertion of 'being blessed with a most precious gift.
Intent as I am in my examination I don't notice Lottie, who has just returned from her meeting, until she taps me on my shoulder.
"Good book?" she asks, thinking that I am reading a novel.
"It's dynamite", I reply, "that could blow in my face."
I bring her up to date with the latest development and talk at length of Jessica's concerns and suspicions. I am so engrossed in doing so that I forget to tell her that I meant to have a serious talk with her.
I had finally decided to take my courage in both hands and propose. I believe she senses my resolve. As I open my mouth, the telephone rings.
"Excuse me, I have to answer that."
© Luigi Pagano 2020
Previous episode: https://www.abctales.com/story/luigipagano/message-bottle