Granddad and the King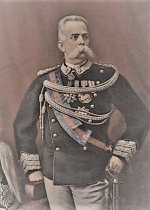 Tue, 03 Sep 2019
Dear Granddad,
 
I never met you as I wasn't yet born when you died. But I know you through your photograph and what my father told me about you.
 
In front of me I have a sepia portrait. You are staring at the lenses of the camera with a solemn expression and a handlebar moustache that reminds me of King Umberto I whom you very much resemble. If I didn't know any better, I could have sworn you were twins.
 
The localities were you two were born are so far apart that the possibility that you were related is out of the question. His birthplace was Turin whereas your place of origin is a small village in the South of the Italian peninsula.
 
The only connection I can think of is the Carabinieri, the police force that was formed to protect the monarch and to which you belonged.
Whether you were a commanding officer or a soldier I was never able to ascertain.
 
Seeing your photograph again prompted me to read up on the period of your life to see what was going on at the time.
The first thing I came across was a cartoon that a satirical Italian magazine published in 1861 showing three politicians sheltering from the pouring rain saying "Governo ladro, piove" which implied that the the blame for the downpour lay with government.
 
It is surprising that even as far back as that the tendency was to criticise those in power for everything that went wrong just as we do nowadays.
 
Another fact that caught my eye was the uncertainty, the turmoil and violence that occurred in those days – even though that era came to be known as the belle époque - with the number of fatal attacks by anarchists just as it happens today throughout the world with fanatic terrorists.
 
Luckily you lived to tell the tale unlike poor Umberto who lost his life at the hands of an anarchist, shot four times.
 
I am sure that if I dig enough I'll find more parallel examples between your generation and mine and, were we able to travel in time, we could be sitting face to face complaining of the incompetence of our bureaucrats and worrying about the future.
As Jean-Baptiste Alphonse Karr said, plus ça change plus c'est la même chose.
© Luigi Pagano 2019