Motivation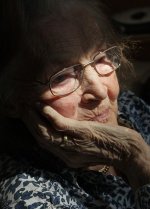 Thu, 12 Sep 2019
1 likes
"How do you do it at your age?" she was asked
- as she alighted, without help, from the boat -
"How can you manage to embark on a journey
on the high seas unassisted and remain afloat
just relying on your dexterity and sailing skill?"
You have to be very brave or feisty or plucky
to undertake a risky feat like those that failed
when previous attempts proved to be unlucky.
 
"Call me crazy, she said, but I enjoy the thrill
and the spills of sailing against the headwind.
To conquer the turbulence of the ocean waves
and to fly the flag that to the mast is pinned."
She was challenged on her way of thinking:
did she not feel that advanced age mattered
in tackling exhausting physical adventures
and by completing them was she flattered?
Age is just a number, was her prompt retort,
more important is the state of one's mind;
determination and the individual's willpower
are part and parcel of the whole of mankind.
Age adds years to one's life, but it does not
subtract from the pleasure that we derive
by pursuing derring-do with impossible odds.
It may be the incentive that keeps us alive.
 
© Luigi Pagano 2019