Nein, Nein, Nein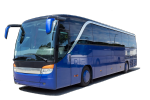 Mon, 15 Apr 2019
Fear of flying was not the reason I chose to travel by coach; it was very possibly a question of cost.
In the years prior to budget airlines a scheduled flight's air fare would have been beyond my limited means. So when a bus company advertised that the last two seats on a coach travelling to Italy were on offer at a considerable discount I jumped at the chance.
When I boarded the vehicle at Victoria station I could see that it would be an uneventful journey. The passengers and the female courier were older than my wife and I.
I noticed the looks of surprise on my fellow travellers when they realised I was the only male on board but they seemed to accept the anomaly with grace.
After crossing the Channel from Dover to Calais we proceeded through the Belgian countryside where we had several stops for refreshments, lunch and socialising.
At the time my ear was not yet attuned to the English language and had some difficulty in understanding what was being said. I pretended to be listening and nodded approvingly if I thought an acknowledgement was required.
This tactic failed me when one lady left her passport behind in a service station and we had to go back and retrieve it.
In a subsequent conversation she turned to me with a smile and said something to which I replied "Oh, yes."
Her vanishing smile told me that I had made a faux pas. My wife later confirmed it when she explained that what that lady had said was "You must think that we British are crazy."
Peace was restored after my wife pointed out my deficiency in the vocabulary department and apologised on my behalf.
We were now on our way to Germany and I made sure my passport, which had been inspected at every border, was safely stowed in my jacket's pocket.
The courier collected all the passports and handed them over to the immigration officer who after inspecting them entered into a heated discussion with her.
He kept saying "Nein, nein, nein." Which even with my linguistic shortcoming I understood to mean 'Certainly, not!'
Yep, it was the fault of yours truly. My document had expired the previous day and was now invalid. I had to be sent back or stay overnight until my consulate could rectify the situation. The coach could proceed without me.
In the face of this intransigence the Churchillian spirit of the other passengers surfaced.
"We will not go without him!", they chorused defiantly and I was moved by their gesture.
The officer would not yield stating that he needed the approval of his Capitan who was on his lunch break.
It must have been a satisfying meal because after a bit of cajoling (and flirting) by our courier he relented and we were once more on our way.
The Austrian were not so pernickety; they didn't notice or didn't care and it was soon 'Italy, here we come.
The Italian policeman who checked my passport looked at me and said, "It must be your lucky day; as you were born in the same city as I was I will let you through but go and get it renewed as soon as possible."
I left my fellow passengers at Verona to continue their 'Grand Tour' and I caught a train to Milan with no further hitches.
© Luigi Pagano 2019