Public Order and Private Dicks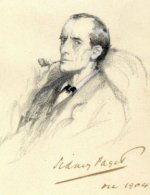 Fri, 18 Sep 2020
1 likes
I am a keen follower
of formulaic thrillers
the ones where cops
are thwarted by killers
who are far too clever
for the wooden-tops.
The ones which have
a world-weary D.I.
who with the rules
doesn't always comply
and who proudly boasts
that he is "old school".
He is also quite fond
of excessive booze
that impairs deduction
and induces snooze.
The binge might cause
erectile dysfunction.
It seems his methods
are much too defective
and that what is wanted
is a private detective
who by the big challenge
will not be daunted.
One hopes the substitute
is not a clever dick
someone like Poirot
who gets on one's wick
but an unpretentious one
who doesn't crow.
Although the TV shows
are run-of-the-mill
and not always the best
they give me a thrill
so I watch that drivel
with great interest.
© Luigi Pagano 2020