A Stranger on These Shores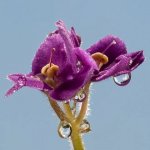 Fri, 15 Mar 2019
The African violet is a perennial flower
that doesn't belong to the genus Viola
though It resembles our native plant
It's from Tanzania (some say Angola).
The propagation is commonly asexual;
most can be grown, from what I read,
from leaf cuttings of the original plant
but they're rarely produced from seed.
One specimen from that far continent
managed to find its way to the U.K.
and of that flower I'm the proud owner
which on a sill makes a nice display.
It was a birthday or a Christmas gift
that came inside a red terracotta pot.
It is much better if it is cared indoors
because outside cultivation is fraught.
I've now found out that that container
had been hand-painted by Clarice Cliff
Many pay good money for her pottery
while others at her ceramics will sniff
I don't really care about spondulicks,
I'll prevent them from being split apart;
that combination with its cheery hues
is more precious than any work of Art.
© Luigi Pagano 2019