The Passageway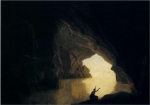 Thu, 13 Feb 2014
2 likes
There was this passageway, 
Long, rich, ferned. Pools, an old stairway, statuary. 
There are some leftover spines and a reading chair and the echo is pleasant in the afternoon.
Then we have some orange juice and this other person turns to stone.
It is hard to speak with them because they are made of stone.
The tide comes in and folds the lip-corners down. The eyes drain, solidify, stare straight ahead.
One of us leaves the passageway.
Another day, a long time ago, I was stepping out of a boat and tripped and hit my head very hard.
Sometimes in the passageway my head starts bleeding again and it becomes difficult to see, but I can still hear the statues calling out to one another.
It is hard for them to see, too, almost as hard as it is for a stone to call out to another stone.
Because we are bleeding so much we are suited only to stumbling together, to pulling each other down or holding each other up, wailing and laughing as we go, halting only to wail or to laugh again, in a slightly different pitch, or to half-wail, half-laugh. 
We are not sure which of us knows that it's just a joke.
Jokes, one of us knows, are harmless and easily told.
One afternoon we avoid the passageway.
It turns out you are an island,
Where I am castaway.
I am drinking Fanta, wearing slightly too little sunscreen, uncomfortable but glad of the warmth,
Struggling and unable to build a proper sandcastle.
A gull whistles, too far out to be seen but 
it is surely soft-headed and damp-eyed and garbage-breathed.
Castaways have good reasons to be castaways, as everyone knows:
They forget to do their homework, they make inaccurate claims on their tax statements, they eat with their mouth open, they turn into statues.
Sometimes the island shifts and water comes rushing through the passageway, like a cloud closing. We could fold up the ocean and put it in the wash but for the noise of it, shaking and spinning and keeping us awake all night long.