church street cemetery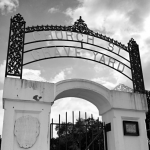 Sun, 13 Sep 2015
1 likes
I follow the path
where tombstones line up
like stegosaurs
plates. At the bottom
there's Timothy
aureoled by a
piss coloured glow.
He spends most of his
time playing chess with
convicts through the post.
In between letters
he eats and smokes
and watches gutter-blood
trickle down his window.
Air from the creosote sky
forces winter into my lungs
and dead bodies
and dust.
The howling wind
garbles my voice
and gags the O in Hello.
Open and closed
his hands pulsate and
I smother my desire
to fit mine inside.
My head feels trapped, he says
I've got the Greenhouse brain.
The sobbing greyness
folds around
us. Just when I think
we will disappear
completely
there's a twitch.
I am sick of this
I place four fingers
on his shoulder.
I reel off options
and numbers
and plan Bs.
He sniffs and 
picks at his
ashy wrist.  
A couple walk past us
hand in hand and I
begin again
repeat, hoping to
speak through skin.
Infiltrate.
Release.
This will pass I spit
lobbing vacant words
in his direction, waiting
for something
life-saving to erupt
from my tongue.
Clouds release little bullets
on our head. Chestnuts drop
like dead birds. I remember
the time we met:
Chinatown, both in staff uniform
admiring the disorder of the crowds.
We inhaled short syllables of air
in gaps between bodies.
Passing our timorous hearts
back and forth like a joint or
a bowl of popcorn.
Have we peaked?
I told him we hadn't peaked
that this was just the beginning.
We walked back inside,
our feet smashing open the rest of our lives
and we washed those dishes
like it meant something.