The Banquet (Competition entry max 1,000 words)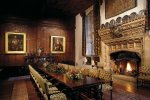 Mon, 15 Feb 2021
I live in a mansion in the country. This is no ordinary mansion; it's an M&S mansion. Well, it's not actually but it does house a library of significance; perhaps the biggest collection of literature for several counties hence. I've always wanted to invite authors of note over. That long standing desire is finally coming to fruition – today, in fact. My State-like reception room has a large, long, regency table laid out with a banquet fit for Kings and Queens.
I can hear the lion-shaped, iron doorknocker. Visitors are impressed when they pull it back, releasing, taking cathartic pleasure in the swing of it. Hamish the butler will admit the guests. Relieving her of the fake fur coat she's wearing, my trusty aide leads Joanne into the room. A cream dress with matching jewellery denotes a certain decorum. I take her genteel hand and dashingly kiss the back. My lips land on a mole. I grimace, fleetingly, before regaining my composure.
"Pleasant journey Miss Rowling? I enquire. She nods, smiles and takes her seat.
"Am I the first?"
At that, the door resounds again. My man servant does his duty as attentively as is his wont, ushering the remaining attendees to the venue of this afternoon's soiree.
"Glad you could make it gentlemen." I declare.
All bushy beard and sailor's hat, George looks around for a welcome drink. The large, lumbering figure standing next to him discretely scans the room, taking in the surroundings.
I show them to the leather-backed chairs huddled in front of the fireplace. Brass ornaments overhang the lit kinder in the hearth. It's cosy and in close proximity to the food and drink.
"There you go, David" I gesture, the palm of my hand directing the current behemoth of children's' books to take a pew. He is wearing a sharp, dark blue suit with cufflinks on his shirt cuffs and black shoes shined to within an inch of their lives.
"Well it's so nice to be here!" Mr Walliams explains in a larger than life manner. It's as though he thinks he's just sat down to judge acts on Britain's Got Talent.
"Yes, thanks for inviting us." Retorts the gnarly creator of A Song of Ice and Fire in a growly American drawl.
"It's a shame A Game of Thrones is finished". David Walliams looks genuinely upset.
"They went way off the beaten track anyway. I mean, how would you feel if screenwriters had done that to your Harry Potter character?" GRRM stares at JK Rowling, almost challenging her with a metaphorical glove to the face. Any duel will be with muskets at dawn.
"I kept a close eye on the scripts" She replies with a certain calmness that comes with global success.
"Who am I to criticise but there was a distinct lack of farts in either of your works." The lady Scot and combative American turn in unison to glare at the unpredictable Englishman. He throws his hands in the air and laughs out loud, eyes twinkling, chest heaving with mirth.
"Yes, I saw your Jack and the Beanstalk sequel on the television over Christmas" I interject in an attempt to bring civility to proceedings. They all turn to stare at me as though I've just unravelled a murder. "Yes, I did see that." Joanne offers with a hint of sarcasm. David rolls his eyes, scratching his cheek and ventures "Good wasn't it? Most creative, I thought. Especially lobbing the story book into the fire at the end. Anyway…shall we?" He motions to the table behind, brimming with sandwiches (the cute small ones cut into quarters), mince pies, cakes and all manner of edible paraphernalia.
"Ooh look at all this. Is this all for us?" Walliams exclaims in a camp tone only he can muster.
"You do realise that the pies are stuffed with characters who have met an untimely end don't you? You know….a bit of frey pie." Walliams almost taunts with the absurdity of it all, the irony not lost on everybody that any kind of suggestion of fictional oddity could be made in this company.
George reaches for a bottle of red standing conspicuously in the middle of the spread. As his fingers go to close around the vintage, Hamish appears like Mr Ben from the side of his shop. He has an engraved, silver platter with filled glasses of champagne. "Drink, sir?" he offers before George can do anything with the wine perched amongst the gastronomic delicacies.
"Why, thank you, Hamish" he manages, disappointed at being headed off at the vino pass.
"So will you ever finish your magnum opus? I hear Stephen King may get to the end of The Dark Tower soon." David eyes George for a sensible response. "I hear JK Rowling is writing more Potter fiction too." The writer from across The Pond guffaws, growling and declares "My readers are just gonna have to wait. It'll get finished when I'm good and ready."
It's at this point a darkness descends, the temperature dropping rapidly, a gloom enveloping the building with a threatening undertone of doom. A high wind whistles and swirls, ripping the front door off its hinges and blowing out most of the windows on the front of the house. Shards of glass fly across the room followed by ethereal creatures gliding into view, floating around the ceiling like a shoal of fish at feeding time. One of the dementors swoops down, pinning David to the ground, face on face, sucking out his very being. A further creature looking like a reject from a rags for sale convention surges towards its victim, holding George in its thrall. For a few seconds, a collective breath is held, broken by a spinning tunnel of energy and then a pop as the two writers are whisked away to Azkaban..or maybe a deserted shopping mall in Watford.
With this, I look at the inventor of the wizarding world of muggles and villains, she peers back. And mouths "Filthy muggles".
Footnote:
This was a competition entry for the journal The Book Collector. The brief was to come up with a short story about authors from past or present and invite them to a banquet. Maximum word count was 1000 which this was on the nose. I guess I should have read the room as the winning notification suggested entries had been more heavyweight with classical the way to go. I have never heard of the literary writer who was the subject of the £500 prize but congratulations to them on coming top of the pile which numbered over 500 (I'm glad they didn't rank them!). I guess the reason for posting this is to say that for those wanting to broaden their horizons, there are plenty of writing competitions out there. This one was free to enter but most ask for an entry free usually £5 - £10. Just use the power of Google to find them. It's all a bit of fun really. Keep posting your best on abctales.com, of course :)
Image at https://www.hevercastle.co.uk/news/spotlight-castle-dining-hall/. No known copyright issues