Snow White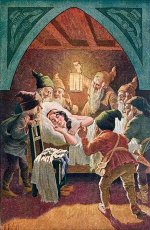 Fri, 01 Jul 2022
1 likes
Audio version at: https://soundcloud.com/user-62051685/snow-white-mp3
Snow White
Fiery, phosphorous sun arced lower,
day summoning the arrival of night,
castle turrets silhouetted on the horizon,
canopy of forests sprawled at its feet.
A mirror waiting; ornate, carved,
ethereal curator of arcane beauty,
listening for questions couched in vanity,
"Who is the fairest in the land?"
Shattered metaphor – an answer given,
huntsman charged, search for a heart,
faced with the innocence of youth,
valour overcomes the darkest deeds.
So she fled into the cover of forest,
where roe deer skirted past trees,
wolves howled at midnight moons
and shadows danced in the gloom.
In a clearing, dwelling obscured, so small,
where silent sanctuary could be found,
in the later, nascent light of morning,
dwarven miners found her sleeping.
Kindness bows, in time, to naivety,
beauty bites into the soul of the corrupt,
an apple shared, deceived by a hag-queen,
slumped, poisoned, now resting eternal.
A glass coffin surrounded by birds,
Snow White slumbered in death so long,
ghosts of the past finally laid to rest
by a beatific, lingering kiss of resurrection.
Image free to use at: https://commons.wikimedia.org/wiki/File:Schneewittchen-Otto-Kubel.jpg
*Snow White is a 19th century fairy tale first published by the Brothers Grimm in 1812. It is known in German as Schneewittchen.