Cyber Birds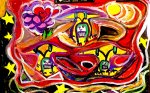 Sat, 21 Nov 2020
.
Cyber Birds
By Paul Mc Cann
I woke up this morning and sat down by the internet ,
and opened up the windows ,
in my mind my thoughts were set,.  
to write in a semi-subconscious state,
poems about the sky,
with words that grew wings
and a computer that learnt to fly .
Somewhere above the clouds ,
my hard drive took me on a flight  ,
where the cyber birds ate up my words
and chirped until midnight  .
Hungry for more they ate their way into the computer chips,
then they flew away with aliens in some strange spaceships  .
Beyond the sky in another world, every thought is heard     
and Cyber birds sing all day and they eat up every word .