The Songwriter - Chapter 7 Part 1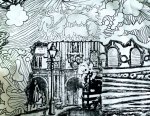 Mon, 03 Feb 2020
The Songwriter
A novel by Paul McCann
Chapter Seven
Over The Waves
Part 1
It was just after December 1988 and winter was setting in . The crossing over the Irish Sea from Fishguard was a nightmare .There were waves like mini mountains tossing the small ferry about like a piece of driftwood. I threw up all I had from my empty belly and more .
The morning was nice to see  as the ferry landed in Rosslare harbour . It was good to place my feet on Irish soil  It was good to feel and hear the heart beat in my chest  as I thought that I had left it  half way across the Irish sea. Rosslare was just as I imagined it to be  There was no sign of life anywhere except for a little donkey tied to a tree outside the youth hostel  I pulled the few notes that remained in my wallet and booked into the youth hostel for a few nights .
As I looked out through my bedroom window I watched the Sea link ferry turn around in Rosslare harbour  and head on out across the Irish sea to Wales The youth hostel stood at the top and highest point of the hill looking out to sea . I was happy to be in Ireland and for three days I lost myself around the sleepy port of Rosslare .
I mapped out a buskers map of Ireland and set off to take mu music to the streets .I walked and worked my way from County Wexford to Waterford , home of the world famous glass crystal manufacturing industry .  I never stayed long in Waterford as I was offered a free bus trip to Cork by a friendly backpacker from Canada called Dave  He was returning to his home in Canada and he gave me a book of bus passes he no longer had any use for  Now I had a ticket to travel the length abd breadth of the Emerald Isle . A stroke of good fortune and a buskers blessing indeed .
So I left the Bolton house guest house in Waterford and went walking along the quay  with my six string towards the on the far side of town , across the bridge . Beside the bus depot was also the train station at Waterford . As I made my way along the Quay I looked at the two cathedrals t6hat stood defiantly against the early morning rain .
One was catholic and the other was protestant , structures of granite , similar in appearance yet unlike in many ways , religiously speaking .
I sat in the bar at the bus depot and had a drop of the hard stuff while I was waiting for the bus to come in .By the time the bus came in I was half drunk . The bus left as the clock in the tower broke up a clan of rebel pigeons from their sleep on the tower's edge .
The bus driver was in no great hurry to get out of Waterford . For a second  it looked as if  he was stopping for a pint .
Well finally I watched as the sea gulls glid over the sky and finally the road out of Waterford was an easy journey to Cork City . As we motored along I delivered a portion of the blues to the passengers on the bus that was crawling its way to Cork on the supposedly express . Surely I thought there must be life there somewhere in Cork maybe a handful of street pigeons and maybe even someone out there who would appreciate what I was trying to do because I had made my mind up . I had set my mind and heart on Cork to answer the songwriters prayer and dream . Living and struggling and trying to survive  .
It was a good morning says I to the warden when I got to Cork .
"Good morning is it ?" Came the reply of the warden and I looked at him .
"Are you having trouble with the rats?" Said I with  grin . He looked at the few cars that were parked in the wrong place and writing tickets for them .
"It's a good job you've got there warden  " Says I. 
"Well I've been doing it long enough."
"So what are you doing these days apart from putting tickets on cars , Do you like music ?"  says I and he smiled .
"Well actually , I'm renovating my house" He answered and then he swung a blow with his left fist almost grazing my cheek in the process .
" I'll leave you to it. " Says I and snapped grabbed my Yamaha under my arm .
" I'll be seeing you another day " Says he .
"I'll let you know when that will be and I'll make sure I won't be coming around "
Then I went on my way as the snow lay in my path and on the street it had turned to slush and the morning traffic was building up already on the Western road and I passed by Jurys Hotel , so I doubled back with the thought maybe I could get a job in there .Si I went in and told them I could do some porters work or I could even  become someone to make the beds or a person who could do odd jobs , a janitor's job or any kind of work that would be going . So I filled out this formal application form to be a jack of all trades of whatever would be going and I handed it to the manager . Then from there I came out of the hotel and made my way down Oliver Plunkett Street and wen into De Lacy house for a drink and while I was there I asked the manager if he wanted to hire a musician  to play in his establishment ,
She looked at me and said
"Well I think ot over . Come and see me a bit later on in the year maybe during the summer holiday time ."
Maybe I though to myself , If I'm still alive by then .
The daytime hours oassed by , like the spare change in my pocket that was disappearing and love had left me like an orphan in the city and every corner I came to I could feel the tingle in my toes and heard the jingle in my head  . I  spent some time busking and I wrote a song called small change.
Zoom goes the space craft far up in the blue, I promise you soon babe I'll fly back to you , I'm taking pennies from my pocket and ready's from my shoe , yeah small change means I love you .
Love is spending time but small change for me.
Small change I can't give no more . I'm on my way home .Blues baby , that's small change straight out of my shoe .
Jingles in my feet , tingles in my toes . Got no time , I guess that's the way it goes when you've got the blues goes , Its called small change and it's always the same .
No alterations , small change . That's my middle name .
It was the night just after new years and not a house could I find for shelter . My pockets were empty and my feet had blisters upon blisters and pushed my way through the snow and the multitude of last minute shoppers in Great Patrick street and if I had fallen under their feet sometimes I wondered if they would have had the decency to  pick me up or would I just get crushed in the stampede . If were not for my trusty six string Yamaha acoustic maybe who knows I'd still be sitting in the valley of darkness but I bravely fought of the foe and stood up like a hunter on heat like a musician with a beat in his heart and I weaved in and out of the doorways stopping here and there for a song or two .  Eventually I made a stand in Winthrop Street at the doorway of the Swiss Gem jewellery store where I started to busk my heart out for the price of a feed or a  bed  . Two busking hours later I realised that I was facing an impossible task so I decided to give in to the madness of the new year .It was hopeless going on any longer . People were rushing around blind in a bid to get something in to the house for the new year . Some items for the loved ones , for the family .
My throat was hoarse , my fingers were numb , my feel were frozen and my busking box had an empty look on it . The golden 20p coin in my hand I looked at as it stared back as if mocking me in contempt , I let it fall but bend down and picked it up and put it into my pocket and sighed with the thought at least I'm 20p better off and I did bring my music to the people so I've come off a little bit better and I'll come back again tonight and tomorrow night if I have to .I'll come back if all the streets are empty and the shops are shut and the people aren't there, if I have to .Maybe then who knows , it will be a better time and I'll be in a better frame of mind with a bit of that good old time Irish Christian spirit burning inside my heart .
I walked around the town with the blisters on my feet hoping that maybe I would bump into some generous millionaire out on a walk or perhaps a music lover who would pay to hear a song of mine .
I walked for hours and hours and my blisters felt like were rivets in the soles of both my feet and each step I took was agony but I kept on singing over and over the melodies in my head and I kept thinking of new lyrics for my unfinished material , Thoughts poured through my head like flour ina sive into my memory banks where they were stored up for later on .
The soft twilight glow surrounded me in its embrace as I passed by the Garda station by the far banks of the Lee . I shuffled my way through the streets very slowly and painfully as the strap of my six string cut through my shoulders .
I just stopped for near the bridge for a while and watched the antics of the young  lovers partying and the others  going out drinking round the city centre that was  alive and buzzing with revellers frolicking and acoholicking on and on as if it would never end .
I shuffled my way across the bridge at Mac Curtain Street and made my way to busk the corners of Cork city centre .
The only thought I had in my mind was if I only could get enough for some bread or some hot potato chips to satisfy the hunger  and do you know what , it began with Small Change . I played small change as people came and they listened and it seemed that small change was a hit .
I was on my way , I had won their hearts over with Small Change .
My toes began to tap instead of jingle and tingle and my pockets were now jingling and jangling away Small change and paper I could feel it , I could hear it and all around the River lee the sound of Small Change echoed , Lined in my the pockets of Levi jeans now was paper notes, guess what , that's just the way the blues goes .
I went and bought a hamburger and some hot chips and I ate for the first time there on the pavement  . The first food I had in days .
End Of Part 1 - Chapter 7
https://www.abctales.com/story/mcscraic/songwriter-chapter-7-part-2
Link to Part 2
,