The Songwriter - Chapter 8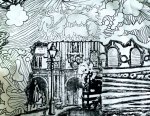 Wed, 05 Feb 2020
 The Songwriter
Chapter Eight
Return To Shore
On a cold night in Blarney Street I was taken in from the rain by a tenant of a building who saw me huddled on the pavement . He said I could sleep on the staircase there on the condition that I never told  anyone who it was let me in to the building .
I was grateful for the shelter there the deal was I could not use the staircase between midday to midnight as the caretaker would be around then . ,  I spent the mornings on the staircase writing lyrics and transposing chord progressions and in the night I would wander round the streets of Cork until midnight when my friend would open the front door to the block of flats .
I remained on that staircase for a week but the caretaker discovered me there early one morning as I was sitting there playing the guitar. I was told to leave but at least I had somewhere dry and not too cold for a little while .
The shops in town around Cork had all been closed over Christmas and the New Year. So it was a waste of time going busking there . ,
So far since leaving Sydney I had been in a nightmare . The journey I'd encountered was marred with incidents   Now and then  I found money on the street . One night as I walked along the Western Road I saw a pound note about fifty yards away just lying there on the pavement . There was a wind blowing that night and I was sure that the note would be blown away . I kept my eyes on it as I got closer to it and it wasn't moving . It was like it had been stuck down with glue , When I got there to the note , I stooped down to pick it up  . I then went and bought a hot chip with the money .
It was January 1989 and I discovered a place in Liberty street near the church that gave out penny lunches for hungry men . It didn't matter if you hadn't got a penny , you still got a lunch .
I was busking again in town and had a few bob in my pocket so I booked into the other youth hostel in Wellington Place , where the rate was four punt a day and the beds were warm and dry .On Sunday I went to mass in Liberty Street .
One evening I decided to check out the JW's on the far end of Mac Curtain Street .  I didn't know much about the Jehovah Witnesses but I hoped thee might be a handout After the meeting was over I waited for something to come , I felt like I was waiting for a bus at the top of Mount Everest . No one came near me or asked me if I needed anything . I had never begged before . I considered my busking sharing my talent but one day due to bad health I couldn't go busking and asked a man on the street for some spare change to get me some food .
He said . "I've got no change. " and kept on walking  
 Then I came across an organization called GROW in Liberty Street where you could get a cup of tea and a sandwich if you went to their meeting twice a week . One day as I went to church in Liberty Street I had the thought to grab the poor box from the front of the church but I couldn't bring myself to stoop that low even though the hunger pains were extreme  I had drifted out in the sea of scruples and pulled back in by the threads of my faith . I returned to shores of my heart where hunger had a good hold of me now . 
I noticed a lot of buskers around Cork now and sometimes there was barely enough room to swing a cat looking to find a spot to play . The competition was fierce and every one was looking for that pot of gold . There was travelling bands , look-a-likes and sound-a-likes ,dancers and chancers , all sorts of hummers and strummers , clusters of buskers all in a row . Six string pluckers and space truckers , last effort muckers with their Mo Jo's and Banjos . Like a crazy freak show , hour after hour    all along the watchtower from Oliver Plunket Street to the City Hall and where the wing would blow them , Music was flowing like Murphys on the Lee back and forward day after day . The buskers of Cork had returned to shore from God knows where with the echoes of something great . There was a surplus of Irish songwriters on the corner of every street and they were all wanting to be heard , all looking for a break , all talented and all unique . High class with a capital C . In French Church Street now and then a few professionals would show up unannounced to play for the passers by freestyle on their acoustic guitars . They sure know the right spots to pick , free from traffic noise and an excellent background . Half their luck I thought as I waited for their spot when they had finished .
Cork is a pretty place full of charismatic streets and alleyways from Careys Lane to  Church Street , into Paul Street and Winthrop Street where buskers played for pennies,  patiently hoping for a large over generous audience .
Scattered around the City are pubs where live music can be heard every night . Every now and then one of the street buskers would get to play to the crowd there . Places like , The Lobby , The Grande Hotel , . During the day there are a number of traditional music jamming sessions happening all over the town where you'll see many Irish eyes all smiling and the lilts of laughter echoing to the parade of tourists that make their way inside to take a seat and listen .
One night I stood by the bridge by the River Lee and in a magic moment as a moonbeam shimmered  across the water a song came to me . It was of the time I spent on a staircase in Blarney Street .
Sheltered On Stairways -
Sleeping on stairways I can't catch the rain ,
my chilblains are red as the western plain .
Landings are lonely old places to rest ,
like birds on a wire I must find a nest .
Sheltered on stairways again tonight ,
birds have a nest ,
they can't sleep on a flight .
Linos for comfort on creaky old floors ,
if I had the keys , I could open some doors .
Sheltered on stairways again tonight ,
birds have a nest , they can't sleep on a flight .
by Paul McCann
I started to busk that song around Cork to all the passers by . There were many who stopped and spoke to me  . One fella said to me .
"You're good enough to be working "
That pleased me .
I met John who worked at the dairy in Cork . He asked me to come around to his house that evening and teach him how to busk . That evening when I went there I asked him to play some guitar chords that he knew . Next day I took him to French Church Street and stood beside him as he played a Jimmy McCarthy song called Ride On . He was very nervous and sung quietly to people who passed by in single file and hardly noticed John was there . The longer John played the more confident he became  .  After two days John had come out of his shell . I was so happy to see him enjoying the busking . We busked together for a week and the he was on his own . We said goodbye and he said he was grateful for my help .He gave me his phone number at home and work .
Another fella I met was PJ an ex-champion boxer . He stopped on the pavement one day as I was busking my songs and  started talking . He said he liked my work and offered me some accomadation with him for a while in his flat on the Old Blackrock Road  . He was a good friend and never once asked me for anything for keeping me watered and fed . I ate his grapes and drank his milk all at no cost . I was happy there with PJ until I drifted away out on the sea of scruples again , thinking how he had become my meal ticket , so I returned to shore and felt it was time to move along so after I found this derelict council office behind the city hall explained to PJ
I had to leave . I was happy enough to be on my own where melodies could find me like on a direct line to my soul . These were rare times and  fair times to share on the song writing path in a town where I had met some really nice people
Busking around Cork was strange but I had small change to keep me going and  memories of old men in rags putting their last coin into my hat . Strangers who became friends between
It was time for me to move on and I decided to head North to Belfast to busk my songs to the people from my home town .
End Of Chapter 8
https://www.abctales.com/story/mcscraic/songwriter-chapter-9-part-1
link to Chapter 9
.
.