The Songwriter Chapter 9 Part 1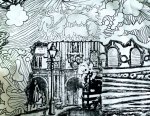 Thu, 06 Feb 2020
The Songwriter
Chapter Nine
Part 1
Back At The Crossroads
A songwriters life is not an easy life, bringing music and songs to the streets . Many would say it's a wasted time and effort but I'd rather be chasing dreams than chained to job by a golden handcuff . Give me a six string while I'm still able to play it  underneath a lamp post on some corner or in a tunnel or on a bus not knowing what tomorrow will bring . Singing in the rain has a reward of its own , the music f life happens  in its own time . A life of uncertainties  where the unknown awaits , the people and places that pass by the eyes of a troubadour .
I sat waiting for the bus to Belfast in Parnell Quay bus station in Cork with all I owned A book of bus passes and an overnight bag full of my songs and my six string guitar . I had no job , no friends , no family and no I.D . I spent the night there  in the waiting room . It was cold but safe . When the bus pulled in at dawn , I got on board and kissed Cork goodbye .          
We were rolling down the little country roads , Belfast bound . There were three on the bus apart from me and the small towns passed like snapshots of a travel  brochure left on a park bench . I looked at the passengers , a teenage girl  , a bald headed student and the driver .  I thought to myself , we don't get to pick the people we meet sometimes like passengers on a bus , or a train or a plane . they are with us briefly for a while and they get off leave us behind . Maybe the same can be said for those acquaintances we have through life . Here and gone in a brief moment of time.
I thought I'd share a few of my songs with the passengers on the bus but remembered the diver put my guitar in the outside baggage compartment .
It wasn't long before the bus pulled into the town of Roscrea . The driver parked on the side of the main street and said to the three of us .
"Well now , you can all go and stretch your legs . No need to worry ,  I know everyone on board . Off you go and have a walk around the town or a pint of stout because this is the last stop before the border . See you back here in an hour "
I thought I'd go check out the town and buy a postcard to send over to Australia so my family would know where I was and that I was still alive. In one of the shops I saw I saw a second hand digital watch . The time said had just passed midday so I made a mental note to be back at the bus for one o'clock .My mind was a little troubled about leaving my songs and my guitar on a bus . It wasn't that often when we parted company .  I convinced myself they were in good hands and kept walking around the town where I was a complete stranger to everyone I saw which made me feel quite at home . The town of Roscrea is situated right in the middle of Ireland and borders four counties Offaly . Laois, Tipperary and Clare . Some would say that is the only town than can boast of a feat like that . Some would argue that's a record to write in the book . Apart from that Roscrea for its size has a lot of offer there were shops and a movies theatre , restaurants  discos and pubs .  I bought a few postcards and found the post office . It looked like a strange sort of post office . There was no counter and I couln't see the shop assistant there  I  climbed up the stairs thinking they must operate the post office from up there .  I saw a gents toilet on the first floor so went for a quick visit . When I had finished I came out of the Gents and was met by a large Gard who was shocked to see me there and asked .
"What are you doing here ?"
I replied " I'm using the gents toilet. '
He said , "You're not allowed in here , do you know you're in the Garda station ?"
I said , :No , I thought I was in the post office."
He said , "Come with me straight away ."
I followed him into the superintendent's office where I was questioned thoroughly for twenty minutes . After I managed to convince them that I was on the bus to Belfast I was permitted to leave free of charge . I ran all the way back to where the bus was parked at the bottom of the hill outside the pub but to my shock and horror there was no bus there  . I asked some people where the bus to Belfast was most of them didn't seem to know .  One or two weren't even aware that there had been a bus to to Belfast at all .  I felt shattered and ran all the way back to the Garda station . I was greeted very cautiously by the Gard at the front desk  I was out of breath and also speaking very fast so he couldn't understand a word that I said . It took about a hal an hour before the Gard got the message that the bus to Belfast was now minus one of its passengers . I tried to explain that everything that I owned was on that bus . The Gard took a description of my personal belongings and he proceeded to the file that away saying ,
"So what is the purpose of your business in Belfast ?"
"I'm musician seeking employment and I may have some work there ." I replied.
"Right sir, just give me a moment ." He said as he lifted up his police radio and with a commanding tone to his voice he said ,
"This is Chief Superintendent at Roscrea here . Is that the Athlone bus depot ?
The call came back
"This is the Athlone bus depot and station here What can I do for you Chief ?"
"I"ve got a man here at the Garda staion  who was left behind by the bus on its way to Belfast . All his belongings are on board . I;ve taken a description of them and filed that away here now O;d like to ask you to pull off the bus when it arrives a small suitcase , a guitar in a red case , a cap and a green overnight carry bag ."
The man from Athlone came back
"I'll do that Chief . What about the owner of the property ?"
The next bus to Belfast comes through Roscrea on Monday so I'd say he would be  on board that , Could you leace all his belongings with the Station Master in lost property  and he will pick them up personally The owners name is Paul McCann Thank you . Over"
 The call came back,
"I'll take to you later on the Mike , Did you see the football last night What did you think of Mc Carthy's goal"
"The reply came
"I know , wasn't it a bit of all right Jack . Anyway I'd better be going . I've a heap of work to get through. Bye ."
Well I can tell you ,  I was glad to know all my things were in good hands so I started to breathe a little easier .I looked at the Grad and said .
"Well it looks like I'll be a guest in your town for a few days . Could you recommend a place to stay ?"
He scratched his head and called in his assistant .and asked
"Do you know of any decent guest house in town ?
The reply was immediate,
"The yellow house is about the best place there down by the Mill Road near to the stream Chief ."
I was given further directions how to find the place and thanked the Gard's for their trouble the I walked out of the station and into a bar half packed with people and cigarette smoke hung thickly in the air  . There was chatter going on around the room as I sat down on the stool by the bar . I asked the barman for a pint of Murphys and suddenly a deathly silence fell all around the room .Every eye in the place was on me . I wondered what was going on .
The barman said, with an anger in his harsh Irish accent
"   We don't sell Murphys here ."
" Ok I'll have a pint of Guinness then " I replied and immediately people started talking again and the barman smiled . I realised then and there of the great rivalry between Murphys stout brewed in Cork and Guinness brewed in Dublin . It seems you have serious Guinness drinkers all over the place and the same for Murphys .drinkers . I was told that there are Guinness pubs and Murphys pubs . That's just how things are so you have to know whereabouts you are before you order a pint of stout .
After another pint I made my way to the stream and booked in for the weekend at the The Yellow House there . That evening after dinner , a shave and a a warn bath I decided to treat myself to a night out and go see Scrooge  at the movie theatre in town . After the movie I found this diso at the top of the town and went to listen to some music for a while .
I rambled back to the Yellow House in the small hours of the morning and I was feeling ok . I had a night to remember in Roscrea and that night before I went to sleep I began to reflect on the journey I had been on . Personally for me I think that  Cork was the highlight so far with its love of music and old charm screaming out at the world to come and see what life is all about   I loved the way people in Cork opened their hearts and their doors to you , I loved the feeling in the hearts of the people who could share that with others in a caring way that could repair the damage done by things unsaid like an innocence of a people not caught up with the hustle bustle of busy lives .  My heart was at peace and I looked out the window of my room and watched the stream trickle slowly past . As soon as my head touched the pillow I went unconscious .
The morning light peeped through the curtains and the silence in the street was broken by the sound of footsteps thumping and high heels tapping on the pavement outside . Then I heard the clanging of a bell and I realised it was the chimes for mass and the faithful were on their way for Sunday mass . I got up and dresses in a hurry because I wanted to follow behind the footsteps to see where the church was ,Before long I was in with the procession of people . After about ten minutes we arrived in a field where a very old and quaint granite stone church stood . Inside the church not an empty seat could be seen. I stood with the rest of the people and listened to the said in Gaelic. . After mass was over I retuned to the Yellow House and sat with the owners sharing stories and talking about life . They made me feel very welcome in their home and cooked a roast dinner .
I left the Yellow House on the monday morning to catch the Belfast bus . By the time it arrived it was midday . I spoke with the driver and produced another pass from my book of tickets . The bus rolled along through ten towns before we made a stop on the way to Athlone I was the only passenger on the bus  When we arrived at the bus depot the driver said
"Well this is a s far as I go .You'll have to change now for the Ulsterbus
I asked him what time did it leave Athlone and he said .
"Well to be honest I don't really know .Ask the station master . He'll be able to tell you the time for that . Good luck "
As I got off the bus, a few people got on the bus .I made my way through the station at Athlone in search of the station master .Everyone was having lunch , there was no one around . No sign of the station master, porters , shop keepers . It felt errie a. The general public sat around reading newspapers and books . Some ate sandwiches and sipped tea from flasks .  I went outside the station to see if thee was anybody I could speak to to find out how long lunch would be ,
I said hello to a little donkey there  and a few people who only spoke in Gaelic .  I walked around for a while and found this old shed with a sign that said Station Masters office . I knocked the door softly before I walked inside , In a dimly lit room behind a dusty desk  sat an old man with a cap on his head and a cat on his lap .
At first I thought it was  a statue until he moved and spoke ..
"Can I help you sir "
"He was nearly in tears after I told him my story and all the things I'd been through .
He pointed to the corner of the room and said
" I guess those must belong to you "'
Sitting there was my hat and guitar as well as my  2 bags.  I was never so happy to see anything else before I thanked him for his time and kindness . I was going to give him a hug but just then he pulled out a bottle of Poteen from the drawer of his desk   .He had a swig and said,
 "I never know what time of the day it is sometimes .  He pointed to his clock on the wall . It only had a big the small hand was missing.
I said , Thank you for looking after my stuff "
'You're welcome . Come again ."
I turned and walked out the door . Inside the bus depot some of the shutters were being lifted and a few of the shops were opening again . I had almost give up hope that I was in a bus depot and not the twilight zone . Some of the staff now were back on duty , this fella with a large broom started sweeping up the floor and every now and them he would swoop down and pick up a paper cup off the floor I'm not an expert but to me looked like a professional . I asked him if he knew when the bus to Belfast would arrive . He wasn't too sure and said,
"Well it's a bit unpredictable these days . There's always something going on around the border:  . and he continued to sweep up.
He started me thinking about the troubles again . I hadn't been home for many years and part of me forgot just how bad it was in Belfast . I wondered how it was these days .  I got in the queue to board the bus The driver checked everyone tickets as we got on the bus . As we pulled out of Athlone I noticed there was a was a tension in the air . No one spoke , it was quiet . The border was now behind and we were on a small country road full of pot hopes heading towards Belfast . It was twilight now and the verdant green hills were dissolving into the shadows the night that was falling fast . The street lamps now were lit and we passed town after town until we hit the bright lights of Belfast City . I was home again .As the bus pulled in to Great Victoria Street station people got to their feet and started to shuffle off the bus .The shuffle became a hurry scurry as if they were being chased .Drops of rain now started to fall as I made my way from the bus depot to get a taxi for my Aunt Lily's house in Jamaica Way in  Ardoyne. It was a quiet night in Belfast and there was no sign of trouble anywhere .I got to Castle Street and got in the Taxi stand .Ten minutes I was on my way in a black taxi . When we got there I took my stuff and said thanks to the driver then knocked upon the door and was greeted by a group of men with a barrel of a gun at my back .
A deep Belfast accent said ,
"You're coming with us ."
End Of Part 1
https://www.abctales.com/story/mcscraic/songwriter-chapter-9-part-2
Link to Chapter 9 -  Part 2 
.
.