The Songwriter Chapter 9 Part 2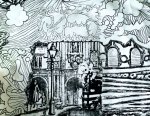 Fri, 07 Feb 2020
The Songwriter
Chapter Nine
Back At The Crossroads
Part 2
So I had come home to Belfast like a little lost lamb . I was taken by the big bad wolf to a house . I was given a dining chair to sit on and then my hands and feet were  handcuffed  . A group of five young men sat down on a sofa two armchairs .
They started to throw questions at me like fists from their tongues . Before I had the chance to answer another of them would answer and throw another question . .
" Hey , Buck Rodgers you're not from around here. Show me some  of  your I.D.
"Buck Rodgers you're from the 21st century aren't you ?
I said to them, replied ,
I don't have any I.D.  I was robbed in London . They took  all my I.D. but I can tell you I know your Mammy and Daddy and I remember your face . I went to St Gabriels school and Butler Street . I have people here who can speak for me ."
One of them jumped up from the sofa and looked into my face .
 "Who the hell are you ?  " another one of them said .
You're a brit undercover .
I answered
No this is where I used to live years ago when you were still in your nappies .
" What are you doing here ?
I replied ,
I'm a songwriter and I just came home from Australia to visit my relatives in Ardoyne
" So you're a songwriter , well give us one of you songs then., Buck "
",My name is Paul and if you take these cuffs off I play you a song "
A handgun was produced and passed around . Then some money was  being exchanged among them . A  phone call was made . One of them brought in a case of beer and placed it on the floor and one by one they all started drinking ,
"I need to use the toilet " I said .
One of them responded .
Take the cuffs off  his hands and go with him .My hands were un-cuffed but not my feet so I hopped like a kangaroo into the bathroom  and watched by one of the group until I was finished . I felt that my life was hanging by a thread . Those who interrogated me had a look in their eyes that spoke of trouble and desperation .
When I returned , they gave me my guitar and said ,
"Give us one of your songs "
I thought to myself if this would be the last song I would ever play I'm going to play a Christian song . So I played a song I wrote called  I'm Falling In Love With Jesus .
Falling In Love With Jesus - Lyrics and music by Paul McCann
One man alone but walked among all .
 carried the cross and three times did fall,
He rose to his feet no more he could stall ,
And when he looked around there were no friends at all .
Falling in love with Jesus, I'm falling in love with Him
I love Him because He loves me too
'and He sets me free from sin .
His body was sore and so very weak
And no words of hatred did He ever speak .
His Mother was there and him she did seek,
she looked at his face so kind and so meek .
I'm falling in love with Jesus,
I'm falling in love with him
I love Him because He loves me too
'and sets me free from sin .
They just did not know that He could not die
all  they could do was to just crucify .
When three days has passed  in the tomb He did lie
He rose up from death, to glory on high .
I'm falling in love with Jesus,
I'm falling in love with him
I love Him because He loves me too
'and He sets me free from sin .
,
A strange thing happened, the terrorists picking up the melody and words of the chorus and began to sing along with me , After the song was finished one of them said ,
"Sing us another one of your songs.".
I made one up on the spot called Wee Willie Wankee , using a twelve bar blues progression and adapting the lyrics from the nursery rhyme Wee Willie Winkee .
Wee Willie Winkee By  Paul McCann
Wee Willie Winky's running round the town ,
upstairs , downstairs ,
he's even in the Crown .
Leaning on a lamp post when the girls pass by :
Wee Willie Winky winks them in the eye ,
he's shy and he's fly ,
Wee Willie Winky .
Wee Willie Winky he hasn't got a clue,
knocking on wood, doesn't know what to do ,
His fingers in the keyholes ,
he's picking all the locks ,
Wee Willie Winky he's a kid who rocks ,
he's shy and he's fly ,
Wee Willie Winky .
Wee Willie Winky he likes to be boss ,
he's trying so hard and paying the Cost .
Wee Willie Winky he could do with a hand ,
he is the leader of a rock and roll band ,
He's shy and he's fly ,
Wee Willie Winky .
.
The group were drinking and laughing . After the song was over one of the group grabbed my guitar , another rushed at me with a pillow over the handgun and  pushed it against my right temple and pulled the trigger .
Nothing happened , The gun didn't fire .   
"You're the luckiest man in Belfast " One of them said .
"I asked him
"What's your name >:
He answer "
" My name is Barbara"
"You can go " Said one of the group  .
I was in shock and answered .
""What ? " .
"You're free to go . We can't condemn you twice ."
He replied and they took the handcuffs off my feet .
"We'll call you lucky , ok skin. "
"Ok Barbara " I  said .
As I got to my feet one of them said to me .
"We're having a party later on tonight if you want to come over ."
" Sure, I'll think about it." I replied .
Lucky indeed was I to be still alive and in one piece , my thoughts were scattered and I was shaking as I walked . I needed a place to just sit still for a while .
I remembered this old football pitch where I played as a young lad when I was in  Gracehill United . So I wandered over there to The Bone pitches and sat there on the side of the dumps just staring blankly like a lamb who had just escaped from the slaughter house . The rain started to fall and I closed my eyes and let the soft distilled taste flow from my lips to my tongue . I felt the rain on my face and didn't ming getting a soaking . I sat on the top of the dumps and opened my eyes and looked at the little rooftops of all the houses in my village of Ardoyne . I sat in a daze for a while and thanked God I was still alive even though part of me secretly didn't care if the gun had gone off . For me it would have been an end to this nightmare I was living .    
Suddenly I heard a sporadic burst of gunfire . It was nearby . It spurred me into action and I run back to Aunt Lily's door and knocked . When she opened the door she looked at me kind of strange . I said
"Hello Aunt Lily , I just thought I'd call in to say hello ."
She answered ,
"Come in son . You're soaked .  I'll get you some dry clothes to put on :
The gunfire outside was still going in but she never even seemed to notice . She brought me some clean clothes and said ,.
"Put these on. They belong to Brian but he's away , over n London working . I 'll go put the kettle on and we'll have a cup of tea "
After I was in dry clean clothes I sat down on the sofa . Aunt Lily put my bags and guitar away upstairs . Then she returned
"Thanks Aunt Lily ." I said
"You're welcome ." She answered .
She lit up a cigarette and lifted her cup  from the saucer and drank down her tea .The gunfire continued and then bomb went off near by . It never bothered Aunt Lily at all . She barely even noticed what was going on . I suppose she must have got used to that .
"Its nice to see you again Aunt Lily ." I said :
"So what have you been doing ."She answered .
I wasn't able to tell her what had just happened and where I had been for the last year or two .
"Just sight seeing around the place "
I answered .'You're welcome to stay here for a while . " She said .
So I did . I stayed with Aunt Lily even got a job as a furniture polisher for Erinwood furniture in Carrickfergus  . I was very luck to have a job as many people were on unemployment benefits . On weekends I went busking in the city centre among the armed police and British soldiers who responded to bomb scares frequently .
I sang my songs to the people of my hometown of Belfast . The drunks and the punks, the mothers , the lovers , terrorists and tourists . The blind and kind ones , the mad and the sad ones  and the brave few who gave a few shillings to the busker on the corner . 
One Saturday morning as I stid in Cornmarket busking Barbara and a few of the boys walked past and shouted  .
'Hey there lucky .How's it going"  He said .
"Ok , what about you Barbara ? I shouted back .
"See you around Skin. " One of them said .
At that moment in time I felt like I was standing at the crossroads . Now knowing if I should stay in Belfast or leave and return to London . There were things I needed to do like get my passport from Australia House there . The Australian consulate in Belfast had closed due to the troubles , I also wanted to call and see Pat in Lambeth and tell him a few stories about what had been happening, I also felt trapped in a situation with no escape. still no I..D or adrift from the ability to return to Australia someday . It was clear that I needed to recover the fragments of my life and that could only happen by another trip across the water to England .  It was my  only choice so I decided that a ferry from Belfast to Liverpool would be the way to go
DURING THE TIME I WAS IN Belfast with Aunt Lily I had written to the local Lord Mayor of Merrylands  in Sydney. I had known Alan Ezzy for a few years and explained my situation to him . He in turn had informed the Australian authorities in London who were also aware of my situation . So now I had a letter from the Australian Government that I was able to provide to any one that wanted to know of my situation .
The thought of going to Liverpool was encouraging for me as I recalled four very famous musicians who came from there who had a bean called The Beatles . I thought surely there I might be able to get a lucky break with my songs and could wait for the opportunity to go busking my songs over there .
End Of Chapter 9
https://www.abctales.com/story/mcscraic/songwriter-chapter-10
Link to Chapter 10
,