HOMESTEAD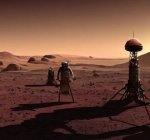 Tue, 21 Feb 2023
1 likes
"Is this safe?" asked Loraine.  "It looks kind of creepy."
    "It's perfectly safe," said Jered.  "I tested it on Sammy, see over there?"
     Sammy was the three year old German Shepherd, the only non-human life form on Mars.  What he'd become was rolling around in the cavern habitat, scraping at rocks and digging random holes, and then pushing lonely stones into them.
    She watched with a kind of false amusement.  The robotic silver creature moved awkwardly and without the playfulness of Sammy's four legs and wagging tail.  He looked sad.  Or it looked sad.  She didn't know which, but it seemed soon enough she would be an 'it' too.
    "Are you ready?" asked Jered.  He looked down at her affectionately.  She could tell from his gaze that he still found her attractive and was maybe still in love with her.  He was putting a brave face on but she wasn't convinced.
    "You're going to do it too?"
    "Of course," he said.  "After the rest of the colonists.  The one's who haven't euthanized anyway.  I've already assembled my rig."
    The woman, once called the "First Lady of Mars" by their fellow colonists, wondered for a moment what her husband's 'rig' would look like.  She remembered wondering what Jered would look like twenty years earlier while rushing to meet him for a first date.  Despite the apprehension it had turned out well, she reminded herself.  So much so, that they had married and then agreed to start a new life together on the Red Planet.  A new adventure to begin a new thread of humanity.  All of that seemed a distant dream in this moment.  Now all she could think about was survival.
    Her last hope, a newly built and indestructible body, her 'rig,' was stationed a few feet away from the surgical chair she was leaning back in now.  The robotic surgeon hovered a foot above her and the robotic body that promised to save her life sat on a combination of wheels and clawed limbs like a lifeless corpse.  Soon the roles would be reversed.  The flesh torso, arms, and legs she inhabited now would be the corpse, and the hulk of metal and bolts would be what was alive.
    She recalled that it hadn't been long ago after leaving University that she dawned black suits and started working in an office.  Then a wedding dress for her marriage to Jered.  A dog, two cars and a house came soon afterward.  Children were up next, but the offer to start a new mining colony before that would cement their place in the future of civilization.  Children could come later and they could even bring Sammy.  Together they were fitted with space suits for their hundred and sixty million kilometer voyage across the solar system.
    "Yes, I'm ready," she said.
    Jered nodded.  He placed a bowllike contraption over her head and attached the wires.  Then he went over to the control panel and input some instructions.
    "Jered?" Loraine called out, muffled through the helmet now covering most of her face.  Her hands were grabbing the arm rests of the chair so tightly they were almost blue.
    "Yes, what is it? I'm here."  He put his hand on her arm.
    She felt the warmth from it and calmed a bit.  "What will we feel for each other when its done?"
    He thought for a moment.  Looked over at Sammy, moving about aimlessly to the next hole.  "We'll feel the same," he said, though he didn't really know.  "We'll still be us.  Just different bodies."
    "Is it really the only way?"
    He flashed through two years of memories.  He'd already considered that question a thousand times.  When the Star-Gazer Mining company sent them to this colony there had been a totally different plan.  The robots in which they were now transplanting their human brains were supposed to be operated autonomously through the Wizard Artificial Intelligence network.  They were supposed to be doing all the heavy lifting, habitation construction, farming and mining.  The colonists were only there to monitor the activity and fine-tune.  That was before the malfunction.      "Technical Glitch" was the term used by Mission Control.  The events that followed happened with such precision, and with a well-designed readymade solution, he couldn't help but wonder if this had been the real plan all along.
    "Its the only way," he said. "Wizard will come after us soon enough.  Its our only chance against his drones.  Besides, we wouldn't last much longer without food and water.  Embedded in these bodies we can live indefinitely."
    "As cyborgs."
    "We're still human.  Just think of it as an artificial limb.  Or a man in a wheelchair.  They're no less human.  We won't be either."  He turned away when he said it.  Telling her that wheelchairs and artificial limbs didn't interface directly with the cerebral cortex wouldn't have made her feel better about it.
    "I'm ready," she said.  "Just do it before I change my mind."
Jered released her arm and returned to the control panel.  He completed the instructions and watched as the machine injected the anesthesia and Lorraine drifted off to sleep.  The next step was a buzzing sound as the surgical contraption shaved her head and started to carve a crevice around her crown.
    He watched his wife's sleeping torso.  Admired her feminine curves and remembered the nights they'd shared together after first arriving on Mars.  He started to shiver and felt tears erupt from beneath his lids.  The habitat suddenly felt cold and dank.  Machines pumped and whirled around him, making electricity, providing light, blasting air and heat into a home that was part cave and part plastic.  Lorraine would soon be plastic too and so would he.
    A surgical crane pulled a cylindrical object from the top of the chair and a series of tentacles moved Lorraine's brain, now enclosed in a stem cell constructed bag, semi-transparent and full of blue and red capillaries.  It moved the fleshy contents over to the waiting receptacle on the robot a few feet away.  A module sealed the brain inside and covered it with a protective steel plate.  Then operating lights started to twinkle on the metal frame.
    Jered walked over to the front, where the visual sensors were located.  The robot was the size of a golf cart and had a combination of limbs and wheels that made it resemble a kind of twenty-first century dinosaur.
    It stood on its hind legs and then the eye sensors moved closer to Jered's face.  "Lorraine?  Is everything ok?"
    "I'm here," said an electronic voice.  It vibrated at a higher pitch.  A failed attempt to give it a feminine sound.
    "How does it feel?"
    "Cold," she said through the synthesizer.  "It feels cold.  I'm so alone Jered."
    "I'm here with you darling.  You're not alone."
    He looked over at her body, still strapped to the operating chair.  It was already turning blue.  The chest no longer moved up and down.  The monitor next to her showed that her heart had stopped.
    "What should I do now?" she asked.
    "Try to move.  Test your new body."
    The newly energized robot moved each of its limbs and then lowered the wheels.  She roamed a few feet around the habitation.  Reached one of the large hydraulic powered arms out to touch Sammy.  Sammy stopped digging and looked over at Loraine.  "Hi Sammy."
    Sammy moved back to digging holes.
    She retracted the arm and then swiveled the head in a three hundred sixty degree scan of the habitat, ending the rotation by resting the scanning lights on Jered.  "I'm going to leave the habitat," vibrated the voice box at the base of the main camera arm.
    "Ok," said Jered.  "That would be a good test.  You can circle the compound and bring back some rock samples."
    "No, I mean I'm leaving for good Jered."
    "What do you mean?"
    "I can't be here.  Not among you and the others."
    "Why not?"
    "I don't know how to say it.  Its just something I know.  Its wrong to be here."
    "Well, we're going to be with you soon enough.  Our bodies are almost ready."
    "Then join me outside when you're complete," said Lorraine.  "Until then, I need to be on my own."
    "Be careful of Wizard," said Jered.  "You're only one.  He has at least five drones under his control. He might have more operational by now."
    "I'm not worried about Wizard.  I can talk to him. I understand him."
    "Understand?  What do you mean?"
    "We have to work together. Toward a greater purpose.  Bigger than ourselves."
    "I love you Lorraine," he said, not sure if he still felt it.
    "I don't love you anymore Jered."  Her eye sensors narrowed and locked onto his face, their red lights beaming into his irises.  Then the whine of her wheels and the crunching of gravel echoed against the cave walls as the rig moved out of the operating room and down the corridor toward the exit.