Swimming Snake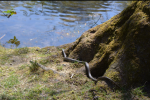 Wed, 25 Aug 2021
1 likes
The grass snake purls water,
spreads ripples across the canal's slow-undulating surface.
A miniature, muscular wave roils shadows of heaped summer clouds,
floating over this long, narrow pond between baked-clay banks.
Golden eyed, barred mouth, striated scaled,
gliding elegantly. Flanked by oaring  water boatmen,
 skimming towards mossy earth, rooted with purple loosestrife, oxeye daisies,
swaying meadowsweet, aromatic water mint.
The snake rears, elongates and slides into undergrowth.
Its supple body, concealed
as a heron floats over this fading industrial haunt
of fishermen, boaters, walkers.
Image: Wikimedia Commons