Find and Replace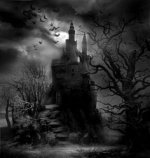 Tue, 21 Jul 2015
In my dream, I'm a writer of gothic.  High up in a draughty garret.  A guttering candle on the ebon desk in front of me.   Freakish shadows chilling the walls.
The wind is winnowing outside the window and by the light of the gibbous moon, indistinct shapes with their accompanying howls could be cats or wolves or feral children.
Next to the candle, there is a skull and a grimoire.  Ancient, esoteric knowledge and the means for bone magic.
The stairs creak sullenly and I look up from my writing to catch a cracked, porcelain face reflected in the mirror by the top step.  A night-walker, there for a second and then gone.
My sentence spider skitters across the page; grave-desolate, pale and perfect.
*
In my reality, the bloody kids are tear-arsing around the kitchen table where I'm trying to write.  They're funny and irritating and in your face. 
The wifi isn't working again, so I can't check any words, or even distract myself by googling that obscure, Black Country expression that's been bugging me all day.
The one cat's brought a frog in and is prodding it under the cooker, watched by the other cat who, if it had a thought bubble over its head, would be thinking, 'furry psychopath.  I'd have never have driven it under the cooker.  I'd have eaten it in its tracks.  Quick smart'.
The microwave pings, the door knocks, the kids continue rough-housing and I can't think of anything to write of any especial merit. 
*
In this minute, I'd rather be a writer of gothic.  Lonely and about to be bitten by Nosferatu granted, but magnificent with inspiration.  Bugger it, I'm going back to my draughty garret.
*