Knock Knock - part 1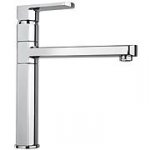 Sat, 01 Sep 2018
"I would rather choose to be a plumber…" – Albert Einstein
                                                                                        *
Knock Knock
https://youtube.com>user>archieshandy
Hello everyone and welcome again to 'Archie's Handy' - your friendly plumber's youtube channel - willing and able to help you with all of your plumbing needs. I'm Archie Flood and I'm being filmed and aided (some may say hindered!) by Bernice, my good lady wife. Today, I'm going to talk you through how to change a bath tap.
You'll need a tube spanner, a basin wrench, an adjustable spanner, an old towel and of course, your new tap.
So first thing's first - and that's isolating the water supply.  If you've got a compression fitting, you'll need to turn off the hot and cold tap.  If not, switch off both supplies at the mains.
Next, you need to remove your old tap.  If you've got access to look under the bath tub, you'll see two, flexible connectors.  Disconnect the tap from them using an adjustable wrench.  There's likely to be some water trapped in the tap, so mop this up with the old towel.  Make sure it is an old towel you use for this – I, for one, have fallen foul of not checking this with Mrs. Flood on more than one occasion, I can tell you!
Once you've done this, you'll need to loosen the old tap by removing the connecting nut.  Once the nut and washer is off, you're good to easily remove the tap.  Be aware there may be dirt and grime where the tap was, so make sure you clean the area around the hole properly.
Now, fit the new tap into the clean tap-hole. Secure the tap with the washer and nut and check it's watertight around the bath and the connectors are screwed up properly. Once everything is ok, check for leaks by turning on the water and running the bath tap.
Voila, that's it!  Knowledge of what to do and confidence to carry the job out gets you a long way in this world.  Knowledge and confidence.  Knowledge and confidence.
And so to end as usual with our plumbing joke of the day -
How many plumbers does it take to change a lightbulb? 
Only one, to call an electrician – plumbers don't mess about with lightbulbs.
                                                                                   *
Bernice switched off the camera and placed it on the side of the bath.  She moved over to sit on the closed lid of the toilet, sighing as she spoke to Archie's back.
"I didn't feel it today, I really didn't.  I don't know, I just don't think there was that drama – that certain je ne sais quoi.
"Maybe if you'd paused more – been less matter of fact – it would have worked better.  Also, I don't think the setting was quite right.  People notice the little things, you know – the fact you've got some Old Spice on the bathroom shelf, the drying underpants. 
"What if I placed a little vase of flowers on top of the cistern?  And I know we can agree to disagree, but don't underestimate the seductive power of a toilet dolly's skirt hiding the toilet roll."
As always Archie didn't turn round for this (as he'd begun to see it) post mortem.  Instead, he slowly and noisily continued sorting his spanners into size order – imperial to metric, small to large.
                                                                                  *
From: Pauly Flood
To: Archie and Bernice Flood
Morning Wood, as they say in Stuttgart! 
So I'm finally here in sunny, old Germany for the annual wood-chopping championship, or 'woodchop' as we in the inner sanctum call it!  Still wish you could have come along, Maw and Paw, but I suppose I get the needing to stabilise your plumbing viewing figures…
The hotel is a bit shit, but hey ho, you gets what you pay for.  Spread out on the bed in front of me is my chainsaw, my axe collection (including that horrendously expensive racing axe) and my uh-oh, I forgot them (oops, no you did, mum) ear defenders.  Still, I reckon my hearing will be a small price to pay for winning this competition.
Tomorrow's event is Standing Block, Wednesday it's Underhand Cutting and Thursday it's the Big One – Tree Felling.  Anyway, wish me luck and I'll leave you with a fascinating fact – did you know, all the wood used in the competition is cloned from the same tree, so that every knot and ring is completely identical?  So now you know!
Anyway, cheers my dears – I'll update you tomorrow.  Love, not from the axe man, but your burly, lumberjack athlete, Pauly Xx
                                                                                        * 
https://www.abctales.com/story/noo/knock-knock-part-2