Hymns of Stone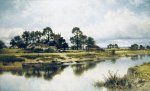 Tue, 23 Feb 2021
The river shifts in mood;
one day it is gunmetal,
a muddy green the next, 
and it is always a woman - 
so long at the mercy 
of greater forces,
and we call some nymphs,
accustomed to the movement 
of water over hymns of stone;
we name them, and beguiled, 
we could never believe 
that they might drown in it. 
 
The banks cling to crack willow
roots, primed against flood, rain 
that rises, threatens, 
then seethes, beyond gravity:
breaks time's grip in a motion
that feels unstoppable. 
 
I wonder if it is lost then,
in the uncontrollable cycle
I have witnessed in me. 
I am source to sea, and back
to source to sea again, so too,
this murky body - the wind is caught
in the cotton of bulrush, past
the downy stems of willowherb:
the transport of all elements,
I imagine the monsters 
it must also hide, dangerous,
below and under, silted and veiled,
deep within its natural flow. 
 
Image is from here: https://commons.m.wikimedia.org/wiki/File:Leader_Benjamin_Williams_Severn_Side_Sabrina-s_Stream_at_Kempsey_on_the_River_Severn.jpg