A Universe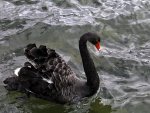 Sat, 02 May 2020
A universe is compressed into skulls
in the cosmology of ourselves; 
cerebral function, the interchange
of forces and bodies 
between galaxies and void.
Here, ancient thoughts orbit neural suns
to a trap of patterned repetition - 
silent films of them play out
their voiceless coils,
centaurs gallop chaos 
from synapse to synapse,
dreams of silicate and metal
are lost from asteroid belt
to become shoal-less silvered fish
in a wide ocean of night.
And my grief glides on winds of memories,
a black swan of dark nebulae - 
all the matter that haunts the ether - 
for other potential lives that pulse
in distant quasars, in the starlight 
of alternatives, my questions storm
arrows of meteor showers, but
disintegrate to dust and purgatory,
unanswered, unanswerable. 
Image from pixabay of a black swan. The swan thing is turning into my wren thing. I'll stop when there are cygnets, I'm sure.