The Toll Booth Problem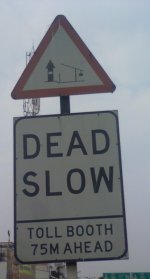 Sat, 15 Sep 2018
I was woken early one morning by a hammering on my back door. I quickly dressed and rushed downstairs where I found Alun holding ladies clothing.
"I've brought you this dress, Jed," Alun said. "A nice flowery one. I think it's your size, perhaps a tad loose."
"That's very kind," I said, being as polite as possible, "But I don't wear dresses. I prefer shirts and trousers."
"I know that Jed, it's a disguise. I thought the flowery dress for you and I've brought a nice green dress for me, I thought I'd wear it with a red shawl draped around my shoulders." He held up the green dress and the red shawl to help me visualise the image.
"Disguise?" I said, somewhat thrown by the image I'd just visualised. "Why would we need a disguise, particularly that disguise."
"It's the mainland council, Jed," Alun said, "They've introduced a toll booth at the main bay. All passengers to and from the island have to pay a toll every time they land on or leave the island."
"And men in dresses are exempt from the toll?" It seem a strange tax loophole, unless the mainland council was actively seeking to encourage men to wear dresses.
"It's not an exemption Jed, it's a disguise. We'll dress up as women and sabotage the toll booth."
A thought struck me. "How do you know about this toll booth? It's 6.30 in the morning, the council workers won't get up for another three hours, there can't have been an announcement."
"There wasn't an announcement Jed, but when I went down to meet the morning boat the toll booth was there, some council worker must have installed it last night, while we were busy writing to the council about the lack of lighting by the main bay at nighttime."
"If you didn't find out about the booth until a few minutes ago where did you get the dresses from?"
"It's wise to invest in these things Jed, you should be grateful, if I hadn't we'd have no way of protesting."
"Are there any other investments I should know about? Frilly underwear that'll match my best vest in case the council imposes a ban on watermelons, size 12 kinky boots in case the colour yellow is removed from the spectrum of light."
"I sometimes think I should be narrating these stories Jed," Alun said, "You get distracted. We're supposed to be plotting against unfair taxation not discussing my lingerie collection. It's like your History of the Poll Tax Protests, that chapter on Tony Benn's knicker drawer was completely unnecessary."
"Do we really need to protest against the toll anyway? We never leave the island and it's not as if we want to encourage visitors, you hate them."
"It's the principle Jed, if we let the council get away with a toll tax who knows what they might tax next."
"And why women's clothing, why not a Batman outfit or something."
"Because that would obviously be someone in disguise, whereas if the council think the protestors are women they'll never think it could be us."
Against my better judgement I put on the flowery dress and a blue shawl. Alun quickly changed into his green dress and we walked down to the main bay where the council had indeed installed a toll booth. It was a wooden box, which came up to my ribcage and was emblazoned with the words 'Toll Box, Insert Money in Slot - Adults 10p, Children 5p, Horses 25p'.
"What do you plan to do?" I asked.
"I've come prepared, Jed." So saying Alun took a printed sticky label out of his dress pocket which he placed over the existing message. Instead of 'Toll Box', etc, the box now read: 'Arsehair collection box - please insert unwanted arsehair in the slot'.
I thought this one-off protest would be the last of Alun's transvestite sabotage, but in fact it was just the beginning. Later that same day was interrupted in my daily doings by a hammering on my back door. It was Alun.
"It's the mainland council, Jed," Alun said. "They've spotted our act of sabotage and removed the sticker."
"What shall we do, put another sticker there?"
"No Jed, that would be a pointless exercise. We need to up the protest."
"What are you planning?"
"Rotation, Jed."
"Rotation?"
We quickly changed into our dresses and shawls and made our way down to the main bay where the toll box had indeed been repaired and the sticker removed.
"If we rotate the box 180 degrees people won't be able to read the notice or put their coins in the slot, Rebecca."
"Rebecca? I said, "Who's Rebecca?"
"You are, Rebecca. I can hardly call you by your real name, we're in disguise. As women."
"So what do I call you?
"Rebecca*, we don't want to use too many different names it'll confuse things."
We turned the box upside down and it was no longer possible to read the sign  or insert money in the slot.
"Surely this is no better than the sticker, the council can just turn the box the right way up."
"It's not that easy Rebecca, the council's own health and safety legislation will make it difficult for them, rotating the box requires two people to lift the box back the right way up and a third to supervise the operation and a fourth to complete a health and safety report, not to mention the various layers of management the report will need to be approved by."
The toll box duly sabotaged and our female selves duly christened we returned home and changed back to our normal attire.
The next morning I was woken early by an authoritative knock on my back door. I quickly dressed and hurried downstairs to find a burly policeman.
"Good morning sir, I wonder if you've seen either of these women?" He passed me a photo-fit image of a  young blonde in a green dress and a raven-haired beauty in a flowery dress.
"No," I said, "There aren't any women on the island, it's just me and Alun."
"Visitors?" the policeman suggested.
"We've not had any visitors at all since the council introduced the toll charge," I said. "Alun is delighted, he's been trying to stop visitors for years."
The policeman was obviously fooled by my convincing lie and left, leaving me with a number to call him on if I saw any strange women and instructions to like the mainland police facebook page. "We're one of the least-liked pages on facebook," he'd complained. "We're trying to change that, of course, image is everything for a community service like ours. The prisons are full so we're letting criminals go on condition that they like us on facebook. We're up to 73 likes with 8 people following us."
I quickly logged into facebook and liked the mainland police, not realising that in so doing I would form an online friendship with Nutter Harris, who was also in the process of liking the police in an effort to avoid five years imprisonment for impersonating Michael McIntyre. 
Shortly afterwards I was interrupted by a hammering on my back door. It was Alun.
"We gotta stop this sabotage malarkey," I said. "The island's crawling with filth." Though only friends for a short while, Nutter Harris' prose style was already influencing me.
"We gotta do one last job, Jed, the council's righted the box already, we need to sort the toll booth proper this time, make it final." (I would later discover that Alun had also recently befriended Nutter Harris).
"Wot yer planning, to smash the box to smithereens, douse it petrol and burn it to ashes."
"No Jed, something that'll put it out of action forever. We're going to dress it up as a gnome."
I must admit I hadn't anticipated that strategy. We quickly changed into our Rebecca garb and walked down to the main bay, where we had a lovely time dressing the toll box up as a gnome.
"I'm not sure how this will work," I confessed to Alun on the way home, "Surely the council will just remove the gnome outfit."
Sure enough later that day when I went to meet the afternoon boat, I noticed that the toll box had been de-gnomed.
The next morning I was woken early by a hammering on my back door. It was Alun.
"It's the Gnome Appreciation League, Jed," Alun said. "They've written to the council complaining about the de-gnoming of the toll booth."
"Who are the Gnome Appreciation League?"
"We are Jed. The council won't dare ignore the Gnome Appreciation League, it's the sort of middle-mainland sounding organisation they always give in to, this way we can force the council to permanently change the toll booth."
Which is why visitors to Happy Island are now greeted by a wooden box dressed unconvincly as a gnome. If you lift the gnome's beard you can still see the slot to drop your pennies (or arse hair) in.