The Trouser Problem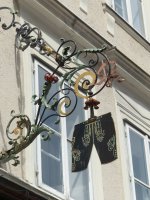 Tue, 07 Aug 2018
I was woken early one morning by a hammering on my back door. I quickly dressed and rushed downstairs to Find Alun waving trousers at me.
"I've brought the left trouser legs, Jed," he said.
Happy Island is, of course, famous for its trousers. I'm sure that there are few among you without a Happy Island trouser in your wardrobe.The production method we employ is quite simple, Alun makes the left legs, I make the right legs, then we put them together. It works well, except on days like these where there is a miscommunication.
"I thought we were taking a day off," I said. The new bank holiday we allowed ourselves to celebrate the anniversary of Tiffany's first top ten hit. I've not done any right legs."
"That's next Monday, Jed, what sort of Tiffany fan are you if you don't have 13th August etched into your brain?"
As Alun and myself are the only residents of Happy Island, arguing with each other is one of the few entertainments we have, and this argument may have lasted a long time, had it not been for the arrival of the morning boat.
We rushed down to greet the Boatman, both knowing what today was. It was the day the new Off-Mainlander Magazine was published. We quickly purchased our copies off the Boatman and retreated to read them in comfort. The Off-Mainlander is the only magazine to cater for the needs of the thousands of off-mainland residents like ourselves. Happy Island was even mentioned once in an article headed 'The Happy Trouser'.
Suddenly Alan gave a gasp. "Have you seen page 73 Jed?" he said. Obviously I hadn't, Alun reads much faster than I do, I was still on page 6. I quickly turned to page 73, where under the heading 'Have you seen these trousers?' was a picture of a pair of trousers. There was nothing else, no contact details, nothing.
"They're Happy Island trousers," I said. "I recognise the distinct style."
"Exactly Jed, but which trousers and why?"
"I don't know. I don't recognise the exact pair."
"Neither do I Jed, we'd better visit the only man who might know. The Trouser Seller. To the Trouser Boat."
The Trouser Seller lives on Buy Your Trousers Here Island and is the main outlet for Happy Island Trousers. We keep a boat specially for our trouser trade, which we christened The Trouser Boat for reasons which might surprise you.
In no time at all we were on Buy Your Trousers Here Island and Alun was showing the picture to the Trouser seller. Alun quickly dodged all pleasantries and cut to the chase. "Can you tell us who you sold these trousers to?" he said.
The Trouser Seller took the photo from Alun and studied it carefully for several minutes. "Nope," he said eventually. "All trousers look the same to me."
"You can't check them against your ledger?" I asked.
"There's nothing to check, there's no visible catalogue number. I could call Eddie I suppose."  So saying he shouted out a loud "Caw, caw," to the heavens. At first nothing happened, then suddenly a caw caw could be heard in the skies above us and a great, white-crested eagle swooped down and rested on The Trouser Seller's arm.
Eddie the trouser eagle delivers all of the Trouser Sellers' trousers and trouser accessories, and has been doing so as long as anyone can remember. He takes trouser delivery very seriously and has perfected the art.
"Do you recognise these trousers Eddie?" the man asked, holding up the photo.
"Caw, caw," Eddie replied.
"Ah, is it now? Let me get the ledger." He took the ledger book from the ledger shelf and pointed to an entry."
"Caw, caw," Eddie agreed. "Caw, caw."
"Eddie remembers the trousers well lads, he was trialing the new biodegradable carrier bag," The Trouser Seller translated (he speaks fluent eagle, having been, for a brief period in his childhood, raised by eagles). "They went to Leftie Stewart on Leftward Isle."
"Thank you Eddie," Alun said (Alun can sometimes forget to thank people, but is always polite to eagles). "Let's go there straight away Jed." 
On Alun's advice we approached Leftward Isle via the very plain approach, thus prevent the narrative being slowed by lush description. Although it adds a mile to the journey it saves pages and pages of descriptive text.
We recognised Leftie immediately, he was the man walking around in his undies shouting "Have you seen me keks?"
"We're from Happy Island," I explained, Alun being shy around men in their undergarments, "where your trousers came from. We wondered was this was all about." I held up the Off-Mainlander photo.
"Me trousers have gone," Leftie explained. "I hanged em out to dry after their annual wash, and when I came to collect them they was gone.
"But the ad didn't say who you were, where the trousers were from, how to contact you, anything."
"No need. Whoever took em knew where they took em from. They may be dishonest trouser-thieving scum but they're not stupid."
"Don't you have another pair you could wear?" I asked.
"Nope. They're the only trousers I possess. Only now they're the only trousers I don't possess."
"Couldn't you buy another pair."
"That's easier said than done lads. I needs a special trouser. Look at my legs."
I looked at his legs.
Reluctantly, Alun looked at his legs.
"Good lord," I said.
"Good lord," Alun said.
"You have two left feet," we said simultaneously.
"Exactly, those trousers are the only pair with two left legs, I've never seen another like em."
"You might be in luck," Alun said. "Happy Island Trousers Inc. would be delighted to make you a specially tailored wardrobe of trousers. For a small price."
And thus fate handed us a solution to two seemingly unsolvable problems, an overproduction of left legs and Leftie's missing trouser.
"I wonder what happened to the original pair," I said to Alun on the way back to the boat. 
"It could be anything Jed," Alun said. "A freak wind, mischievous mainlanders on a trouser raid, a geep getting caught in them. It's a harsh world for a trouser to live in."