Faiseur de Chair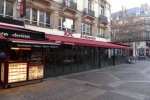 Wed, 06 Mar 2019
See when I think about it, my first experiences of big cities were an eye opener:
supermarkets providing affordable food in London at an audition;
New York offering space amongst the height; Calgary, inland, voluptuous
bikini clad girls seeking a trust-fund of oil moolah.
Paris squatting a grande ville on the edge of destruction.  Painted respectable mesdames
scurrying from their demi-croques as the tweeded tramps (it all trickles down)
scoop the assiette for its goût.  Versailles, once an escape from the filth.
Tawdry baubles dangling before grasping visitors' eyes.
The Porte Saint-Denis survives: kebab shops; boulangeries; traffic.
Old entrance to a different city, yet génial for its day.
This was where we sat and smoked, with fried chicken dripping our hands,
marvelling at the perfection of French children's perfect grammar.
And when I think about it, snobbishly reprimanding our lack of finesse,
I am reminded of how it is the only large city we ever visited together.
It was other people those other times, climbing their landmarks.
Paris is KFC, and doing impressions of tweeded tramps
*'Un faiseur de chair' is a weaver who specialises in lifelike flesh tones in tapestry.