Alf Ramsey – My Part In His Triumph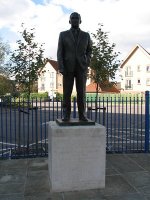 Mon, 12 Oct 2020
Around the time Cup Finals
were first shown live on TV
and towers were erected   
overlooking our back garden  
with the lawn striped and manicured
just like Wembley Stadium,  
Alf Ramsey would be watching
from the 6th or 7th storey
as I tried to keep the ball within
the central midfield area
away from the flower beds
my father set such store by.
Any failure to control
saw a crowd of heads go drooping
or the prize snatched away
by dogs and smaller siblings
who wouldn't leave the pitch despite
prolonged appeals to reason.
They were no better than Argentinians
at the end of the day.
To evade father's discipline
and maintain home advantage
I kept close possession
far enough from the edges
managing without wingers
only looking up when Mom blew
for dinner at Alf Ramsey
unsmiling and furiously
scribbling down his thoughts.