"The Trouble with Magical Beings" (A Fantasy) Chapter 3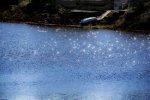 Thu, 05 Sep 2019
The house was quiet, as Daniel carefully walked across to his grandmother's room and peeked inside; he could hear her low snoring and knew she was fast asleep. He went over to Jenny's room and looked inside, she was clutching her lion and as far as he could tell, she too was asleep.
Daniel snuck out his bedroom window and raced to the beach.
It was nearly midnight and he didn't want to be late.
The beach was mostly dark, a few lights from the boardwalk lit the area of sand near it but out towards the ocean it was blindly dark.
"I see you are a human of punctual word. That's good."
Daniel turned quickly around to find Kale standing behind him.
"How did you do that?"
"Must I explain magic to you?"
Daniel shook his head, "No,"
"Good."
Daniel squared his shoulders and asked, "So what do I have to do for my wish?"
Kale was about to answer when his attention turned to the tall beach grass that lined the sand.
He fixed Daniel with a stern look and said, "I did ask you to come alone, didn't I?"
"Yes, and I am …alone."  
"So the smaller human behind the bushes does not belong to you?"
Daniel turned and saw Jenny's ragged lion's head peeking out from the tall grasses and knew she'd followed him, but he'd been so sure she was asleep when he left.
"Jenny, what are you doing here?" he yelled to her.
Jenny's head peeked out and her eyes were as round as saucers as she stared at the standing up, big fish that was talking to her brother.
"Is it safe?" she squeaked keeping her distance.
"I will not eat you if that is your fear." Kale answered her, "You may as well come out," he said to her and then looked down at Daniel, "but I am disappointed you could not keep your promise."
"I did, I did keep it. I don't know how she knew I'd left the house. She's never followed me before."
"And you've never captured magic before either. The first rule you should know…Magic has a way of changing things around you, so be more aware of it."
Daniel wasn't sure what that meant but he promised he would.
Jenny shuffled her feet through the sand as she slowly walked over to her brother, all the while giving side glances at the strange creature as she got closer to it.
"What are you?" she asked it.
"I am your touchstone to magic little one, so don't be afraid of me.
"Magic?" she squeaked excitedly, "like in Cinderella? Like a fairy godmother?"
"Not at all like that, but the purpose may be the same."
"A fairy Porpoise?"
"Is she kidding?" he looked to Daniel then sighed turning back to her, "I am not a porpoise though they are a close cousin, and I am not a dolphin either though they are closer than the porpoise. Do you understand that?"
Jenny shrugged, "No, but it's okay whatever you are, you're friendly right?" she smiled her most beguiling five year old, front toothless, smile at it.
Kale felt a tug in the vicinity of his feelings but didn't confirm her belief.
 "Can we start my challenge now even with Jenny here or do you want me to take her home?" Daniel didn't want to wait any longer for his wish but if he had to take her home he would.
"She can stay but there can be no others."
"I promise, I will be extra careful…so what do I have to do?"
Kale smiled a big fish smile and said, "You need to pick an adventure."
"We get to pick an adventure?" Jenny squeaked with joy.
"Not you," Daniel reprimanded her, "I have to pick, you're just here to watch."
"But I want to play too."
Kale almost laughed, these human urchins were acting just like his offspring and although he had no use for humans, these two were not raising his ire, but he did need to end their argument.
"I care not who decides the adventure but you must decide."
"I want a world of ponies that fly through rainbows and over blue green soda pop oceans and onto ice cream mountains with lollipop trees," Jenny squealed with delight as her imagination took her into her favorite cartoon, Mustang World.
"No way, I don't want ponies and rainbows and all that stuff, that's not an adventure.  I want robots, the kind that transform into cars  and planes and boats and I get to control them and keep the world safe from invaders."
Kale listened intently to both of their fantasy adventures and then said, "Okay, I understand."
"But you're not thinking of Jenny's because she's not part of the challenge, right?"
Daniel did not want to ride a pony into a rainbow cloud and trot on ice cream. How could he prove himself worthy of his wish by doing that?
Kale did not confirm or deny what he was considering instead he told them, "Come back tomorrow night; be sure you sleep sufficiently through the day as this adventure will need your wide awake focus."
"But if we don't know what it is, how can we prepare for it?" Daniel asked really wanting a hint of what was to come.
A long sheet of paper floated down onto the sand before the two little humans and  Kale smiled as he told them, "Here's some reading for you to prepare with and  I suggest you memorize it well before tomorrow night."
His booming laugh shook the sand beneath the children's feet, just before he vanished  into a  streak of light that flew towards the ocean.
Daniel picked up the paper from the sand.  It was a long set of rules.
"There's homework with magic?" he said feeling sick.
Jenny watched the light skipping over the dark ocean until it disappeared.
"What was that anyway? Are we sleeping Danny?"
Daniel looked at her and noticed her eyes were heavy, nearly closed, she was falling asleep. He quickly took her hand in his and led her back to the house.