"The Trouble with Magical Beings" (A Fantasy) Chapter 5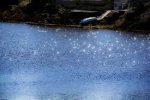 Sat, 07 Sep 2019
Jenny's pony led them to the mouth of the cave and they barely had time to dismount and walk the horses fully into the cave before they heard the jets flying overhead looking for them.
"How is it Jenny is the one leading this adventure?" Daniel asked Naia.
"I think it's because she's the only one who didn't upset my father," Naia whispered to him.
"That's true," Daniel admitted honestly.
"Anyway, no matter who leads us we all still need to solve this adventure, whatever it is."
Just then they heard the jets coming back and feared this time they'd see the mouth of the cave.
"If you have enough magic to hide us, maybe you can use it now?" Daniel said as the jet engines roared closer.
Naia closed her eyes and made a wish to hide them.
A few large, ground colored, mushrooms sprang up outside the cave's opening, and they were large enough to hide the entrance but there weren't enough of them, so they only hid half of the cave's entrance.
"Stupid watered down magic," she sighed.
"Try wishing again maybe it'll fill in the rest?" Daniel said adding the strength of his wish to hers.
"Let's hope this works," Naia said and wished again for the cave to be covered completely before the jet robots returned and discovered it.
A few more mud colored mushrooms appeared and thankfully they were enough to block the entire entrance from view.
Jenny walked over to them and the three listened intently as the jet engines passed over them once more and as soon as they heard them moving farther away, they smiled. When they could no longer hear them at all, they cheered.
"That was brilliant," Daniel said to Naia.
"Thank you," Naia said, feeling pretty proud of herself too. Then she turned to Jenny and asked her, "How did you know about this cave?"
"It's part of Mustang Land; it's where the ponies go to recharge their power."
Naia was curious about how the cave could recharge the ponies power. She began to walk further into the dark cave to investigate it.
"Okay, so now we need a plan," Daniel told them, "Those robots are going to keep looking for us and that's going to make it hard to complete this adventure. I'm pretty sure we can't face the challenges from inside this cave."
Naia wasn't listening to him as she ran her hand along the wall of the cave. Some kind of rough stones lined the cave walls.
"I wish I had a light," Naia whispered and a very, small lantern appeared in her hand. It was truly tiny but she held it up anyway and it did manage to illuminate the wall near her and her breath caught at what she saw.
The walls gleamed with clear crystals, the most powerful kind of crystals in her world and she turned excitedly to Daniel to tell him.
"I think we'll be just fine in this cave and I bet we can find a way out without the robots seeing us too."
Daniel and Jenny both turned and stared at the light gleaming off the wall where Naia stood.
"What is that?" Daniel asked.
"It's beautiful." Jenny whispered.
"Yes, and even better…it's magical."
"It is?" Daniel asked stepping closer.
"Definitely, touch one of the stones and ask for something and see what happens." she dared him
"I'm kind of hungry," Daniel said and his stomach took that moment to grumble.
"I am too," echoed Jenny.
"Okay, than ask the crystals for something to eat," Naia told him.
"What like at a drive up window?" Daniel laughed as he said it but saw that Naia was serious, "Sorry, okay I'll try."
Daniel put on a serious expression and touched the wall as he said, "Can we have some lunch, please?"
A flash of light zigzagged from where Daniel's hand touched the wall and ran along the cave illuminating crystals as it went. Several crystals lit up at once and shed light over a table set with all kinds of food and beverages. A brighter light beamed down from the cave's roof directly onto the table, and several crystals lit up the floor showing the way for the children to walk to their banquet.
"Look your wish even fed the horses." Jenny pointed to a corner of the cave.
Sure enough, the ponies and the stallion were already drinking from a trough along the wall and hay bales were stacked next to them.
"So we have magic at our fingertips," Daniel said in awe.
"Yes, but we'd better use it properly or you know, it can turn on us," Naia warned him.
Daniel nodded, he remembered those twenty rules and knew one selfish wish could end the adventure and not in the best way for any of them.
"You're right, and since any one of us can make a wish here, we need to check with each other before we make one," Daniel said.
"I agree," Naia nodded.
Jenny just smiled and walked up to the wall and touched it before they could stop her and wished, "Please can I have lion?"
"No!" Both Daniel and Naia said in unison but it was too late.
A full size lion sat in the middle of the cave staring at them.
"Lion!" Jenny squealed and ran towards the lion but Daniel stopped her before she reached it.
"That's not your lion Jen that's a real lion."
"No, that is my lion; he's just come to life with magic."
The lion yawned, a big sharp tooth yawn and then slid down to the cave floor and put its big head on its big paws but its eyes were intently watching them.
Daniel wasn't so sure that this time the magic could be trusted. "Naia what do you think?" he asked her while holding Jenny back from the lion.
"I don't know but only she can make it go away."
Daniel nodded, that was magic rule number ten, 'The one that creates the magic is the only one who can cancel it'.
He tried to reason with his sister, "Jenny you can't take him on your pony, he's too big…so unless you can wish him back into the ragged toy you love, you should send him home."
Jenny's lower lip trembled; she didn't want to send him home. She'd forgotten to take her lion when they left home tonight and she was never without him. She needed him with her.
"I know he can't sit on the pony with me so I'll wish that he can fly too?"
"No!" Again both Daniel and Naia spoke together and again it was too late.
The lion stretched and shook its massive mane and now on his back he'd spouted wings.
"This isn't good," Daniel said.
They now had a full size, flying lion to contend with and they didn't know if it was friendly or not.
"Go see if it's friendly," Naia whispered to Daniel.
"Me?"
"It's your adventure," Naia reminded him with a shrugged and moved behind him.
The lion lifted its regal head and its golden eyes seared Daniel with interest.
The gaze was intelligent but Daniel didn't know if that was a good thing or not but he nodded to Naia and said, "Okay, take Jenny's hand and keep her here."
"He's not going to hurt you," Jenny told him.
Daniel hoped not as he slowly approached the large beast.
"You really should eat your lunch now," said the lion, "You're going to need your strength for the rest of this adventure," and then it yawned and put its head back on its paws.
Daniel froze on the spot, "You are her toy lion?"
"Yes, and I really wish she'd name me already, I know I'm a lion but I have no identity beyond that."
Jenny shook off Naia's hand and ran to her lion.
"I'm sorry; my dad gave you to me but he didn't tell me a name for you".
The lion sat up and put its big paw on her shoulder, "He'd want you to name me."  
Jenny wiped at her eyes and put her hands on the big lion's shoulders, "Okay, then I will. I'll name you…Boots.
"Boots?" the lion questioned not looking too pleased.
"She means as in Puss in Boots, that's the book my mom is reading to her," Daniel explained.
"Great, I'm a puss in boots lion."
"Is that okay?" Jenny asked with a sniffle.
The lion's eyes softened on her and he nodded, "Yes, I rather like it, Boots. Sounds like a determined name. Boots can stomp and walk tough. Hmmmmm, yes, I think I can live with it."
Jenny threw her arms around her lion and he smiled, as best as a lion could smile, and thankfully he showed no teeth in doing so.
"Boots needs to eat too, "Jenny said and immediately wished a meal for her lion.
"Okay, Jenny. Now you have your lion but you have to stop making wishes. We don't know how much magic there is in this cave and we need to save it." Daniel told her in an understanding, not a scolding, way.
"Okay, I'll stop making wishes," Jenny agreed sheepishly.
"So we all agree?" Daniel looked at Naia and Jenny as he said, "No more wishes will be made without all of us agreeing on it first. Agreed?"
"Agreed," both Jenny and Naia said, pledging their allegiance to the wishing rule.
Then Jenny walked over to the tabel of food and said, "I'm starving can we eat now?"
Boots ate whatever appeared in the bowl before him as the three children sat at the over laden table and ate their fill of the food there and after their meal; they all took a quick nap on the soft cots that had magically appeared in another corner of the cave.
While they slept, the mustang world outside the cave magically changed, creating a whole new set of challenges as magic is wont to do.