"Willow's Tail" 12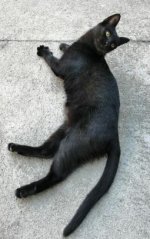 Thu, 01 Jul 2021
1 likes
Roger gave Martha a grateful smile when she placed a bracing cup of tea in front of him but Martha didn't return it.
"Are you ready to tell us what you've been up to Mr. Appleton?" She asked, placing the teapot on the table. 
"I thought that was obvious," he said nodding to the box.
"So you wanted it to be obvious?" Perfidia's tone was skeptical; she was sure he'd only said that because he'd been caught.
Roger shrugged and insisted, "I've nothing to hide but…I didn't ask permission, and for that I'm sorry Martha."  
"I'm not sure I accept your apology Mr. Appleton, and I'm not pleased at all." 
Martha's frown of displeasure made Roger bow his head with regret; he had taken advantage of her hospitality and he was sorry, but if he told her why, maybe she'd forgive him.
 "I should have disclosed my actions to you Martha and you have a right to be upset with me for taking a cutting from your mini rose bush, but in defense, when I saw it, I knew it'd be the perfect 'forgive me' gift to send to Gloria. She loves roses you know," he gave her a tremulous smile.
"Roses, you sent her roses too?" Perfidia asked in astonishment.
Roger turned to Perfidia, confused by her question. "What do you mean by, too? I only sent her roses."
Roger's answer was met by utter silence from both Martha and Perfidia and he shifted uncomfortably in his chair uncertain of the room's chilly atmosphere. He felt he was missing something they expected of him.
"What are we talking about here?" He asked, looking from Martha to Perfidia for clarification.
Perfidia opened the lid of the box and slid it over to him. "We're talking about this, look familiar?" She taunted.
Roger recoiled at look of the dark, disturbing plant.
"Oh that is something unpleasant isn't it? And thankfully, no, I've not seen it before." 
"You've never seen this?" Martha inquired with a shrewd eye, looking for the slightest nuance of deception.
Roger's eyes were pools of innocence as he stated again, emphatically, "No."
Martha decided his response was truthful.
Perfidia, on the opposite spectrum of the verdict, wasn't a tiny bit convinced of his innocence.
"I agree Roger;" Perfidia said with a perfect, false, smile, "it is a very unpleasant plant, even without its stench, but you say it's unfamiliar to you, and I say…how can that be when it was you who'd sent it to Gloria?" Perfidia sat back and waited for his confession.
Roger was stunned by her claim and it took him a moment to recoup. "I did not send that to Gloria…but, are you saying someone did?" He demanded.
"Yes I am, you," Perfidia accused.
"Impossible, I sent her roses and nothing else!" He said with certainty but his ire at the idea of someone sending this terrible plant to Gloria had him pulling the box closer for inspection, seeing his handwriting on the box, his eyes went wide.
"How can this be the same box I addressed?" 
"That is an excellent question," Perfidia said and pushed the box closer to him, "and we'd like answers too. Got any?"
"No," Roger stated pushing the box back to her, "but if Gloria thinks I sent it, I have to talk to her right now and set her straight." He grabbed his crutch and stood up but Martha stopped him from leaving.
"Mr. Appleton, Gloria isn't going to talk to you, not right now, but if we can solve this mystery then you'd be better able to explain it to her."
Roger nodded and sat back down, realizing Martha was right; but he was still agitated over the misconception.
 "I'd like to help Martha but how can I solve what I didn't do? And where are the roses, and my letter?"
"Letter…?" Martha gave him a probing look; she hadn't seen a letter and Gloria hadn't mentioned one and if Gloria had received a letter from Roger, she would have known who'd sent the plant, and she hadn't.
 "Well, it was more of a note. I'd tucked it down the side of the flowerpot. She may not have the roses but I hope she read that note."
Martha looked into the box and notice a tiny tip of white just barely showing from under the plant. She gave Roger a sympathetic look as she lifted the plant from the box. 
"Your roses are still at large Mr. Appleton, but I do see your note is in this box," Martha said as she retrieved the folded note and handed it to him.
Roger opened it and saw it was indeed his note. His eyes shifted to Martha and he said with deep dejection. "Gloria didn't read this; did she?"
"No, I don't think she did."
Roger tucked the note into his pocket and shook his head. "I don't understand what happened; where are the roses? Who did this, and why?"
"Good questions," Martha nodded, "but to find answers, we need to unravel some clues."
Roger perked up. "You have clues, what are they?"
Martha pulled a piece of a tea leaf from the soil and held it up. "I found some tea leaves around the plant, did you put them there?"
"Tea leaves?" He repeated with less bravado.
"Yes; my special blend of tea leaves. Did you put them in the soil when you planted the roses?"
Roger's expression turned guilty, his eyes shifted away from hers as he responded.
"I did, but only because I knew tea leaves add nutrients and tannins to the soil and, knowing the roses would be boxed until delivery, I wanted to give them a better chance to survive," he gave her a rueful smile and added, "but I shouldn't have worried since they've vanished, tea leaves or not, she never saw them."
Martha looked down at the plant; it certainly wasn't roses and there was trickery here but she didn't think it was from Roger. He was telling her the truth but somewhere between his packing the box and sending it to Gloria, someone had switched that plant. And it sounded like the same plot that Percival said had happened to his letters to her.
Martha didn't like the similarity and unfortunately, the 'who and why' in both events were still unknown.
Roger picked up his tea, needing its rejuvenating warmth but what he got instead was a full sip of calm. He smiled, pleasantly surprised, as his worrisome thoughts grew quite and his pulse and blood pressure normalized.
Perfidia knew Martha was leaning towards Roger's acquittal but she wasn't ready to ratify his innocence just yet. She tapped one long, magenta fingernail against her teacup and drew his attention.
"Tell me Roger, how did you mail that box when you couldn't get to the post office without assistance, you know, without someone like me to drive you?" Perfidia's sharp eyes were intent on finding his guilt.
Roger lowered his teacup and, without any hesitation, told her.
"I went online and ordered a pickup for that afternoon; I scheduled it after you both left for the market that day."
Perfidia's smile turned to a frown at his quick response and unfortunately, she had gone with Martha the other day to the market; she'd wanted to buy additional nutrients for her Orchid. His story was plausible.
She turned her sour expression and her gaze to Martha and shrugged, she had nothing else.
Martha did. She slid the plate of blueberry scones to Roger and as he gratefully took one she stated her thoughts.
"There had to be an opportune moment in that day's timeline for someone else to touch that box Mr. Appleton. So can you walk us through all that you did, from when you cut the roses until you handed it to the delivery man?" 
"Of course I can," Roger said swallowing his bite of scone before continuing, "That morning while you both lingered over breakfast; I walked through the garden and noticed the tiny roses beginning to bloom. That's when I decided Gloria would love them. So I went to your sunroom, found an empty flower pot, your spade and shears. I saw the tea leaves drying and took a few for the soil. I filled the flowerpot with soil from around the roses, took a cutting and planted it, then took the potted roses to the sunroom. I found a perfect sized box and placed the roses inside. I saw your note paper, used to label plantings, and took one to write my note. I purposely left the box open so the roses had light and I left it there, until I could schedule a delivery."
"How long was it unattended in the sunroom before you returned to it?" Martha asked with calculated interest.
"Oh, less than two hours; when I came back inside I'd heard you and Perfidia discussing that walk to the market. Once you'd both left, I ordered the pick up immediately and went back to the sunroom to prepare it and….," his words trailed off and his eyes narrowed in thought.
"What is it, what did you remember?" Perfidia asked.
Roger looked up at her; his eyes showed distress. "There was something odd," he mumbled.
"What was odd?"
Martha and Perfidia asked him in unison and Roger leaned in closer to tell them.
"I'd left the box open for air and light but when I went back to the sunroom, it was closed up and I didn't think about that until now. I didn't look inside, I just addressed it and…I don't know who closed the lid."
Martha and Perfidia both felt chills at the new twist in the tale.
"So someone came into my sunroom and tampered with your package. I say we see if they've left any clues behind." Martha stood up and walked to the back door.
Perfidia and Roger quickly followed her.
Willow had been half listening to their discussion as she lightly napped in her corner but it had become interesting at the end, and her curiosity peaked. She stretched languidly then sauntered out to the garden to see what they might find.
Martha walked through her rose garden; it didn't look disturbed and she saw nothing missing from her rose bushes.
"Those tiny roses don't look tampered with to me," Perfidia whispered to her.
"No, they don't," Martha agreed and turned to Roger, "Where did you take a cutting from?"
Roger looked around the area then knelt down by the bush he was sure he'd taken the cutting from.
"This one, it was right here but I don't understand. I know I separated a few branches away and dug down to cut at the root, but I don't see it either."
Martha knelt down and pushed away the earth from the area he'd pointed out. She immediately saw that the cutting had been replanted, expertly, like a puzzle piece fitted back together. The branches were flawlessly matched with the cut ends and packed in with earth, so it looked undisturbed.
"Someone replanted that cutting," Martha told him looking around the area and her eyes lingered on spot just ahead of the rose bushes.
Willow saw it too and walked over to sniff at it. Then she turned to her human with glowing eyes and ran back to the sunroom.
The three followed Willow.
Martha noticed more of those tell tale prints when she stepped inside the sunroom and  she saw Willow sniffing out each one and following its pattern.
"What do you think she sees?" Roger asked, not seeing anything unusual.
"Willow's picked up a scent but I'm not sure if it'll lead to anything yet," Martha told him with caution, "but I know you must be exhausted Mr. Appleton. Why don't you take a nap and I'll call you when dinner is ready. If we find anything more, I promise we'll discuss it later."
Roger sighed and realized he did feel fatigued.
"I do feel a tad worn and a nap would help but later…I'd like us to contact Gloria, and let her know I did not send that inhospitable plant."
"Of course," Martha smiled with understanding.
"Thank you." Roger nodded then hobbled his way back to the house.
Once Roger was far enough away Perfidia gave Martha a perplexed look.
"Why are we concerned with bunch of Willow's paw prints?"
"They aren't Willows," Martha whispered back.
Just then Willow jumped up on the potting table and stared out the room's window into the garden beyond; her ears flicked forward and she gave a low guttural meow before she jumped down from the table, and ran from the sunroom.
"She's either heard or seen something in the garden," Martha said and they quickly followed the feline into the garden but lost sight of her once she ran past the delphiniums.
"Where did she go so fast?" Perfidia was impressed by the cats speed.
"I'd say she's chasing something down." Martha smiled.
Willow ran through the azaleas, around the blueberry bushes and over the herb garden following the fresh paw prints until they stopped. Then she sat down and looked up at the neighboring fence just as the tip of a black tail disappeared over it, to the other side.
Willow was about to jump up and chase the fleeing cat when she heard her human calling her.
She stared hard at the fence and flicked her tail in the intruder's direction then, with a satisfied glow in her eyes, slinked her way back through the garden to answer her human's call.
The swarm of wasps closing in on the cat was concerning to him but not for long; his human was just ahead waiting for him; he dove into the open car door, into its cool interior, and his human closed it seconds before any wasp could enter to sting him.
"Good job Max," the deep male voice chuckled, "They haven't a clue what's going on do they?" he asked, scratching the happy spot behind the cat's ears.
The answering meowrrrr was both affirmative and blissful.
The sleek sports car revved its engine and drove off but the wasps were undeterred by the failed attempt. The swarm followed the car in arrow formation, taking every turn and hill with stingers at the ready for when the occupants left their safe place.
The car pulled into a circular carport and the driver door opened only to snap closed again.
Max and his human watched the determined swarm of wasps surround the vehicle and knew they had to counteract the call for attack the wasps were following but, for the moment, they also knew they'd been bested.
"You know Max, maybe they do have a clue," the deep male voice concluded as the black cat's eyes narrowed on the wasps.
Max flattened his ears, drew them forward with intent, and twitched the tips. Then he placed his paw on the door and tilted his head at his human.
"Is it safe to open it now?"
The response was a confident, "Meow"
The male human and his familiar walked un-stung past the swarming wasps, stingers aimed but unsuccessful in their attempts to break through the protective shield the black cat had conjured.
The wasps soon became exhausted and disappeared as the two stepped though the front door of the magnificent home that sat upon the hill and looked down on the property of one, Martha Kendelite.