"Willow's Tail" 5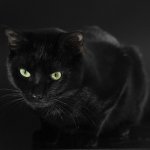 Mon, 03 May 2021
Perfidia finally caught up with her hat and grabbed it away from the dancing wind. She put it back on her head just as that wayward wind suddenly stopped and her eyes, behind her polarized lenses, scanned the area for the culprit. She knew that little feline was responsible but she was no where to be found.
Perfidia's mood was decidedly muddled as she walked on to the market.
The 'Shopper's Delight Market' was filed with many of those delighted shoppers milling about and Perfidia could not see where Martha had gone. She noticed a large vegetable section and, knowing how much Martha liked her vegetables, she walked over to the filled shelves and bins. 
Perfidia was unimpressed by the selection of produce, noting the imperfections on them.
"Pitiful looking," she assessed silently looking over the plums and peaches. Her garden at home always produced well formed, sun kissed, bounty, nothing like these offerings. These were decidedly inferior and made her miss her home and garden all the more, but she couldn't go home just yet. 
She picked up a tiny specimen of a lemon and sighed as she put it back in the bin.
"Are you picking lemons for your tea Perfidia?"
Perfidia turned to find Martha standing behind her looking over bunches of carrots under a fake rainforest spray of misty water. It had just turned on with a fake rumble of thunder.
"Oh, there you are," Perfidia said, lifting her sunglasses to the top of her head.
"Here I am," Martha said with a nod placing two bunches of carrots into her cart.
"You truly prefer this?"
"Yes I do, the earth produces and I enjoy," Martha said with a decisive tilt of her head.
"You always were unique Martha."
"Thank you, so were you," Martha conceded with a knowing look.
Perfidia smiled wistfully remembering those youthful days and conceded.
"Yes I was."
Martha leaned closer and whispered. "You still are, and it's the reason you need to make amends."
"I am not asking Gloria for forgiveness so forget it; you are not going to win on that."
"Forgiveness you'll need to ask of Mr. Appleton; understanding is what you need to give Gloria."
"Understanding, give her understanding?" 
Perfidia could not believe Martha had said that. Gloria had taken Jon from her and broken his heart. Then he'd left town. How was she supposed to understand that? 
Perfidia's eyes were indignant as she stared at Martha, until they turned speculative.  
"Tell me Martha, did you understand Percival Goodfellow's sudden affection for Miriam Simpleton?"
Martha felt the arrow and scolded herself for letting the name affect her.
"Percival had every right to seek his heart's desire, if it wasn't me, so be it," Martha said with acceptance, "And I didn't send him to the Amazon to hurt someone else who loved him."
"Maybe you should have." Perfidia mumbled.
Martha shook her head and walked on to the oranges.
Perfidia considered her words but she didn't believe her. Martha may have vaulted those feelings away but how would Martha react to Percival at her doorstep? It was an interesting thought.
"This one doesn't look too bad." Perfidia said as she picked up an almost perfect peach and tossed it into Martha's cart, "I may have it with cream when we get home." Then she walked away to explore some herbs she'd spotted in little ceramic pots on a stand of wooden shelves.
Martha's eyes followed her. Perfidia was always hatching something and one could never be sure of Perfidia's thought process, it tended to follow her slightest whim. She walked over to the plants and stood next to Perfidia. 
"I have an herb garden so you don't need to buy these."
Perfidia read the names on the tags sticking up from the soil and considered one she may need to buy and turned to Martha with a wicked look. 
"But do you have catnip?"
Martha frowned.
"Perfidia, you'll only be courting havoc."
Perfidia smiled and picked up a small potted plant tagged 'Nepeta cataria' and admired its full leaves. "I think Willow will like this and besides, it's a gift of friendship. Cats like this stuff," she said with a not so hidden intent and walked to the check out.
Martha shook her head and wondered if perhaps Mr. Appleton might oblige her by heal quicker so that Perfidia could go home.
The new plant in the garden drew Willow's attention. She slinked over to it and whiffed a pleasurable scent. The she rubbed her nose into the leaves and happiness overtook her. She felt like a kitten again and lay down on the leavers and rolled over them meowing with pleasure until she saw that yellow hat human laughing at her.
Willow's happiness ended abruptly with the sound and she rolled back to her feet.
Willow turned away from the pleasant smelling plant, knowing it was a diversion and she would not be diverted and flicked her tail in the direction of the laughter.
"Help! Bees!"
The scream was high pitched and followed by running feet.
Willow slinked back under her favorite delphinium to enjoy the sight.
Perfidia took off her hat to slap the bees away; there were so many of them buzzing around her, though none had stung her, yet. She picked up the garden hose and turned the nozzle on then sprayed herself and the bees, dispersing them instantly.
Once all the bees were gone, Perfidia pointed the spray into the garden where she knew that unfriendly feline lounged. 
The angry "Meow" that met that spray of water brightened Perfidia's smile.
The drenched cat leaped out of the flowers to shake the water from its fur and Perfidia dropped the garden hose.
Their eyes locked in battle until Perfidia stomped into the house to change her clothes and Willow lay down on the sun baked garden path to dry her midnight fur.
The plant's scent tickled her nose but Willow ignored it…at least, for as long as she could.
*
Percival Goodfellow could not believe the name and address that had popped up from his search. He'd searched this name for so long with no results, and never expected that to change, but suddenly there it was. He'd found her.