In the Green Time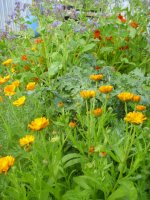 Thu, 19 Mar 2015
Mari loved this time best.  It was late afternoon in the garden.  The children fresh from their bath, darted about in unison, like pale rooks before night nesting.  The air was warm but the light was less harsh than it had been.
The garden was still full of flowers.   She had grown all of those flowers from seeds, it had not been difficult.  Who would have thought that borage would be so abundant and blue?  Or that the cheapest of marigolds a perfect complement to them?  Her life was full of accidents she noted, smiling at her children. 
She had wanted to make her garden like that painting they had seen in the museum.   As she thought this she was struck with the realisation that it hadn't been a painting of a garden at all, it was more of an ungardened place, somewhere wild.  The painting was called, 'Last Summer Things were Greener'.  She had a postcard of it stuck on the hall wall.  A girl stood with a stricken expression beside a dark river.  All around her were plants and flowers drawn so perfectly you could see each variety, each small detail mattered.  There was something about that painting that drew her in.  She imagined herself surrounded by many shades of green, and even though she understood the wistfulness of the title, it made her dream of creating a garden her children might remember in times to come.  She tutted at her own whimsy.   Still, the garden did have a sort of beauty.
Mari had made the garden.  When they first arrived there had been no garden at all and it was impossible to walk in the small fenced off space at the back of the house.   The ground had been churned up, heavy clay full of rocks, rain had both softened and thickened earth into claggy mud. 
Mari had tried to walk on it.  She had wanted to tie a line from a hook on the back wall of the house to the fence at the other end of the garden, thinking she could dry the nappies and tiny baby clothes out there once the rain stopped.  Her feet had sunk into the mud.  She swung her arms about reaching for some sort of support and finding none had fallen, hurting herself on a rock and covering herself in thick mud.
Rob, her husband, had laughed at the sight of her and she had insisted that one of the first things they would have to do would be to turf the garden.
Rob reminded Mari that they would have no money at all for a fortnight, and even then there would be more important things to buy.
The house was soon filled with the steam of nappies drying on radiators, and Rob began to think that Mari may have been right.
At night the two of them lay on a slowly deflating lilo.  Every few hours they would rise to their knees and blow hard into its tubes.  Mari had little breath left in her and, recognising her attempts as futile, would turn to check the babies, one in a carrycot, one in a cot.  They looked so comfortable that she wondered if she might squeeze in with them.   Invariably her checking would wake them and she would stroke their warm cheeks and silky heads.  She found night feeding her youngest difficult.  There was no easy way to sit as she had grown thin and her bones felt hard against every surface. 
There was an easy-chair downstairs, donated by a concerned aunt.  Mari would often carry her wriggling bundle down into the black well of the stairs to find it. She would sit in the dark listening to the snuffling animal sounds of her child and doze.
So it was agreed that the turf would have to wait until later, they needed to buy a bed.  Neither of them had any idea how to go about such a thing. 
They were young; people said this as though it was a crime.  Neither of them felt young but there were gaps in their knowledge of how the world worked. 
Rob had secured a position in a factory in Birmingham, so they had moved the hundred miles or so north to this alien landscape of new houses and building sites high on a hill overlooking a motorway, with further housing estates and industrial estates stretching out as far as the eye could see.
They had learnt everything they knew about being an adult from books, television and the radio. Unfortunately Rob only read science fiction and Mari read novels from long ago set in different lands, so the information they had gleaned was largely irrelevant.  The couple considered their parents and concluded that if they had managed they could too; they just needed to learn some of the rules.
Mari's mother had given her a Reader's Digest Farmhouse Book of Recipes, so she had an idea of what to cook, but the fine details, such as how many days you can keep a piece of meat in a warm kitchen before it goes off, eluded her.   The closest shop was over a mile away and a difficult walk with the pram, the small baby tucked up inside and her big fourteen month-old sitting in her seat on top.  There was a rack above the wheels that she could put the shopping onto, it all seemed quite manageable in theory, but was so heavy. 
Mari would buy the right things, carrots, potatoes, meat, tiny jars of baby food and then linger over packets of seeds with images of brightly coloured flowers on the front and magazines with brightly coloured women on them.
There was no money for turf yet, so certainly no money for those sorts of luxuries.
Over time they acquired the day to day furniture of life.  But the most memorable purchase was the day the turf arrived.  She had tended it carefully, watering it regularly and avoided the temptation to walk on it until it had settled.
In one fell swoop, they had a garden.
There was no panelling to separate their garden from those on either side, just some wire fencing.  The following year the children liked to sit on the grass and watch what was happening in the other gardens, as though it was some sort of outdoor theatrical performance.  Eventually she would plant a hedge of Rosa Rugosa, for privacy and beauty.
A health visitor called round three times a week in those early days.  Mari thought this excessive and, as pleasant as the woman was, intimidating.  Mari felt she was doing a pretty good job with the babies, hardly noticing her own weakening condition.   She had found a wonderful recipe on the back of an Oxo cube box: 'dissolve an Oxo cube in boiling water, add a spoonful of mint sauce, or tomato sauce for a tasty drink.'  This became a daily meal for her.
It was the health visitor who suggested she meet some of the other mothers in the road, the thought filled her with dread.  The walls of these houses were thin and she had clearly heard the woman on one side of her tell someone that she was 'worried about those babies next door,' as Mari was 'such a strange young mother.'
Mari shuddered at these sorts of judgements. 
The women on both sides were at least ten years older than she was.  They drove cars, had jobs, and stood out the front laughing and smoking and gossiping with each other.  Rob, her husband, would join them, they loved that, he was 'a laugh'.  She heard him telling them that Mari was crazy, rolling his eyes.  How they all laughed.
The health visitor explained that there was a girl over the road not much older than her and she had three children.  She was Catholic and capable and was opening her house up one morning a week to other mothers of babies, so they could support each other.
Mari wondered how she could avoid this when the house was directly opposite and they could see into each other's homes, clearly she couldn't.
The meetings weren't so bad and it was nice for the babies to share toys.  Mari found out that all of the others had thought she was a posh snob.  Even Mari laughed, but she heard it as an echo from the not so long ago playground.  There were reasons she liked to keep to herself.
There was a mother who came once and never again.  Her name was Debbie; she had charisma, bleached blonde hair and an enormous chest.  She'd wanted to smoke but the others had protested.  She had winked at Mari, 'You'll come outside with me while I have a fag.'  It was an order, not a question.  From then on they were sort of friends, both of them outside the inner sanctum.
Debbie liked a drink.  She didn't know the rules to grown-up living either, but she didn't care.
On those evenings that Rob wasn't at home Debbie would call round so they could have a drink together.  Mari wasn't much of drinker, she couldn't afford it, but Debbie was generous and always turned up with two bottles of whatever she was drinking, usually cider or sherry.  At first Mari was shocked; did Debbie expect her to drink all of that?  She soon realised that for Debbie drinking was a serious activity, she could not share a bottle, and would either finish or take home whatever Mari had left.
Debbie would look round at the trays of seedlings and snort.  Mari didn't mind.  Week by week, month by month, she was populating her garden with flowers and herbs.
Rob was losing patience with her, her strange ways, her strange friend.  Didn't she want to get out and meet new people? 
'I talk to the children,' she said.
And she did.  She even read to them from her library books.  The one that stayed with her was, 'My Mother's House'.  It had sumptuous descriptions of a beautiful garden.  She envied the garden and the mother.  Her own was far away and glad that she had gone.
Debbie called around most days and was itching to get Mari to go out with her in the evening. Rob was not keen on the idea, but Mari was working now, doing a twilight shift at the factory her husband worked at so he couldn't really complain. 
Friday night was an early finish.  Mari would catch the bus from work to a pub that had music and dancing on a Friday night and meet Debbie there.  They would dance and laugh and drink barley wine.  It was a small pleasure.
They had done that last night, but the snatched pleasure now seemed hollow.
They had danced and drunk and all too soon the lights went up and people drifted towards the exit.
'We've got a lift,' Debbie motioned towards a table of young fox-like men. 
Mari didn't like the idea, they had enough money to share a taxi, but not enough if she paid by herself.
'C'mon, it'll be a laugh,' Debbie had her teasing face on and Mari could see that she would be going whatever Mari did.
The two girls clutched at each other's arms for support as they left the pub and stood in the car park.  A long green car slinked beside them and an oily voice called from the open window, 'jump in ladies, we've got a party to go to.'
Mari looked into the car, hoping to see adventure but only seeing a nest of rats.  The sparkle of the evening fell flat and she saw the true drabness of it all. 
I'm not going,' she said to Debbie, too tired to explain.
In moment Debbie was in the car, the car gone and Mari was alone in the car park.
She knew the general direction of home, it would be three, four maybe five miles away.  She walked with purpose.  Debbie would be fine, she always was. 
Her feet hurt, so she eased off the high heels, feeling instant relief.  There was something else nagging at her body, she unhooked the heavy dangly earrings.  The two actions made her feel smaller, more comfortable, closer to ground. 
The air was warm, there was no traffic, the moon was luminous and lit up the way.  This was not so bad.  She passed dark houses, thinking of the people inside, tucked up and dreaming and was envious.
A man walked into the road towards her, he was carrying a bottle.
'You goin' my way?' he slurred.
She could hardly ignore him, there was no one else there.
When she got in she had lost all sense of herself, 'I am a ghost,' she thought.
Rob was up and livid, he shouted and pushed her and she did not resist.  It felt like nothing.  She had no tears, no voice, no strength.
He looked at her lying on the floor and realised he'd had enough.  He went just as the sky was growing lighter.  There were birds singing.  It would be a sunny day.
It was a strange day.  Her body hurt, her mind seemed to hover above her, watching her carrying out actions mechanically. 
The children played and ate and ran to her to hug her, or to show her an interesting stone, or called to her to watch them run.
Now the day was nearly done.
She heard Debbie knocking at the door.
'I'll never open it again,' she thought, and smiled at the prospect.
Her children were plucking handfuls of flowers, she said nothing, but they looked at her with uncertainty.  The children grew more reckless, sensing that their mother really didn't mind.
The hum of the motorway became more distant, the laughter of her children, sweet as the song of a blackbird, was pushing that outside world away. 
She tugged the head of a marigold away from its stem and smelt the heady scent clinging to her fingers.
'Not sweet, but bitter, as it should be.'
The gold of the flower was glorious.  'Such marvel in this small thing, such intricacy.'
'I wonder if my mother ever thinks of me?'  She smiled and shook her head.   Her mother thought of her no more than those women in books did.  Perhaps Mari herself was a fictional character, if so she would rewrite herself. 
But not yet.
She heard Debbie calling through the letter box, so she closed the back door to shut the noise of her out.
Her children were naked, pink and cream and gold.  They danced on the grass, pulling petals from flowers and tossing them like confetti into the air.
'How beautiful,' she thought.