Here We Come A'Wassailing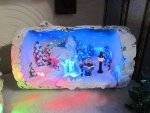 Fri, 30 Nov 2018
'Absolutely ruddy typical!' the man grumbled to himself.  The focus of his ire was whoever had just rung his doorbell, coinciding with the revelation of the murderer in the drama he had been watching for the last two hours.  He snatched the door open and was surprised to see two children, one slightly older than the other.  The older boy spoke first,
"Good evening, sir" Peregrine said brightly, pushing a hat containing some coins and notes toward the householder.
"What do you want?" The man asked, suspiciously.  There was definitely something familiar about this lad.
"Carol singers!" Prudence announced, sweetly.
The man unfortunately laboured under the mistaken belief that his sense of humour transcended the generations.
"Oh, really" He responded, stifling a snigger, "pleased to meet you, Carol" and thrust out his hand to shake.  Prudence backed away a few steps and half-hid behind Peregrine.
"The gentleman is being humorous, Pru" Peregrine explained, "he is pretending to believe that your name is Carol Singers for the purpose of obtaining a cheap laugh.  There's no need to be frightened"
Prudence warily emerged from behind Peregrine.  The man blushed with embarrassment and cleared his throat a couple of times, before,
"Alright, if you're carol singers, why haven't I heard any carols?"
"We take the view that there is little or no point in singing to a closed door, given the usual volume level at which most people pitch their home entertainment systems" Peregrine explained and shoved the hat with the money toward the man again, hopefully.
"Hmmm, fair enough, I suppose" the man conceded, "so what are you going to give me now?"
"Ah, I fear that there is where we may have to disappoint you" Peregrine admitted, placing the hat by his feet, "you see, for my part, I regrettably suffer from congenital amusia"
"You've got what?" the man asked, warily.
"Congenital amusia.  You may know it as tone deafness." Peregrine explained, "to quote the vernacular, and, in particular, my father, I couldn't carry a tune in a bucket"
"Oh, well, I suppose it'll just have to be the little girl then" the man suggested.
"There I must counsel caution" Peregrine said, gravely, 'whilst Prudence can, undoubtedly, sing in tune and, I might venture, sing quite sweetly..."
Prudence blushed prettily and rubbed one shoe against her leg in embarassment.
"...she unfortunately has no sense of volume whatsoever"  Peregrine concluded.
"Oh, I'm sure she could..." the man began.  Peregrine sighed deeply and then said, wearily,
"Prudence, would you like to deliver the first line of Stille Nacht for the gentleman?"
Prudence took an exceptionally deep breath before, 
"SILENT NIGHT, HOLY..."
"Make her stop!" The man had his hands over his ears and was backing into the hallway, "MAKE HER STOP!"
"I did warn you" Peregrine said, ruefully, as the last echoes of Prudence's performance died out around the cul-de-sac. "A gentleman a few streets away requested 'O, Come All Ye Faithful' and I believe he is still undergoing hospital treatment"
"Alright, alright" the man was sweating slightly under the strain, "if you can't hold a tune to save your life..."
"Congenital amusia" Peregrine nodded.
"...and she can't open her mouth without deafening everyone for miles around..."
"As we have, so recently, witnessed" Peregrine nodded again.
"...then, why in the name of all that's holy, are you two going from door to door as carol singers?" The man's voice was a yelp by the end of his question.
"Oh, come now sir!" Peregrine admonished, "surely you are not trying to infer that we two, restricted as we are by our respective disabilities, should not be allowed to follow the traditional path or calling of carol singers?"
"You what?" The man asked.
"He means, you're discriminating against us!" Prudence lisped, sweetly.
"Ah no, wait just a minute now..."
Peregrine produced a notepad and pencil from his inside pocket and began to make notes.
"What are you doing?" The man asked with concern.
"Just making a note of the address for future reference" Peregrine responded, brightly, "I'll make some contemporaneous notes of the content of our conversation when we get home.  Tribunals tend to like those" He smiled winningly at the man.
"Now, hang on a minute" the man was sweating profusely now, despite the chill of the winter evening.
Peregrine shuffled his feet and, apparently inadvertently, shoved the hat containing the money closer to the doorway.
The man sighed and reached into his back pocket.
"Will a tenner do?" He asked, hopefully.
"Shall we say twenty?" Peregrine beamed, "I do dislike the colour and design of the current ten pound note."
You can find the original Christmas story about Peregrine, Prudence and Wayne (the Anti-Santa) in 'A Christmas Cracker' my collection of seaonal stories