My Village Part 4 Our Rivers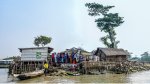 Fri, 06 Sep 2019
1 likes
My Village
Part 4
Our Rivers
Cuddling as a mother
holding my village close to her
with her branches as limbs to support
to give the warmth of love and comfort
Mahanadu the great river
to my village a true mother
with her love, service and furry
to instill in the villagers the strength to parry
any catastrophes and calamities
with calm, composure and ease
On her breast of water and sand
villagers fulfill their many a demand.
From infancy to burial for his persistence
each and every villager needs her assistance.
The river changes its color and figure
deep blue to deep yellow water
lean stream with a sweet murmur
to full river with a deafening roar
from soothing current to sweeping flow
at her every posture villagers bow.
Boats to cross with rivers is only mode to go out
in the hot sun, in pitch dark, the boatmen never flout.
The late-night calls to the boatman from the opposite bank
coupled with the howling of jackals, me from sleep still yank.
Her furry of flood often makes a sea
all rivers embrace one another with glee.
Houses are washed out, corps hide underwater.
To high places known to them rush the villagers
without being panicky as if they are meant to endure.
After the flood recedes they return with fervor
to rebuild their houses with mud and bamboo
within a few days, their houses are made new.
the flood washes out filths in ponds and barren fields
fertilizing many lands increasing the yields.
I have not seen any land spoiled by sand
on the whole, the flood there does good to the land.
A day or two and a night or two
a thrill they enjoy that as sufferings one may boo.
Know they well the shallowness and intensity of the current
catch they wooden logs and enjoy the ambient.
Caste, creed are forgotten on the high land
enemies turn friends, strong complies weak' demand.
As a child with no embankments to arrest
I remember the furry of flood at its best
"worst" my pen refrains to write as the adjective
as man is too small to contemplate His objective.
Concrete houses protective embankments
many more so-called innovations, man invents,
but the life my villagers led, the furriers they braved
despite six decades' modern exposure still, keep me amazed.
(P K Routray
in the service of Lord)
(N . B -This is the fourth part of my journey in my village surrounded by rivers no bridge no protection then, with little effect of furries of the flood.)